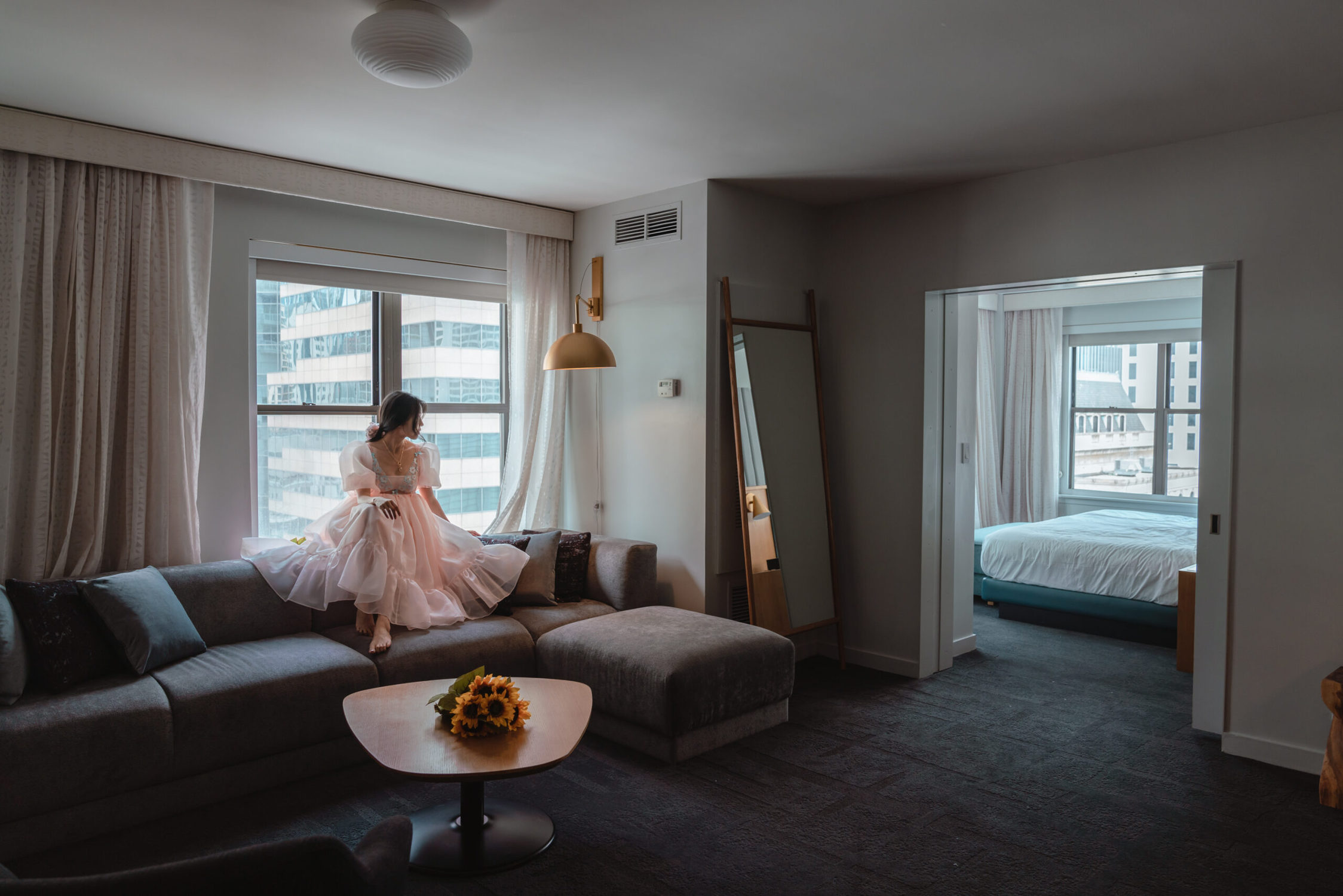 I recently took a trip to Chicago to visit my family (that I hadn't seen in almost 2 years thanks to the pandemic), as well as to check out the ever popular Immersive Van Gogh Exhibit Chicago. As a self-proclaimed art lover and nerd, I was super excited to have the opportunity to stay at one of the newest hotels in Chicago's River North neighborhood – 21c Museum Hotel Chicago, which made for the perfect base to explore and experience an amazing art-filled weekend!
In this article, I'll be reviewing our stay at 21c Museum Hotel, which was one of the most unique hotel experiences I've had! Set in the heart of downtown Chicago along the Magnificent Mile, this boutique hotel combines the comforts of a luxury hotel with an interactive contemporary art museum featuring rotating exhibitions by emerging artists and local Chicago artists alike. Read on to learn more about our experience here!
Disclaimer: My visit was sponsored by 21c Museum Hotel Chicago and Immersive Van Gogh Exhibit Chicago; however, all opinions shared are 100% my own and are not influenced by any being or brand.
Overview
21c Museum Hotel Chicago is the newest addition to the currently nine 21c Museum Hotels – MGallery Hotel Collection available in the midwest, USA. It opened its doors in February of 2020, keeping in line with the mission of 21c founders Laura Lee Brown and Steve Wilson – "to bring contemporary art to the public through innovative exhibitions and programming that integrates art into daily life." With over 10,000 square feet of exhibition space, this 297-room boutique hotel blurs the line between contemporary art museum and luxury accommodations, allowing visitors to connect more deeply with the city's vibrant art community and culture while enjoying all the conveniences of staying just blocks away from Chicago's best attractions and eateries.
The museum is open and free to the public 365 days of the year and 24 hours a day, with guided tours offered every Thursday at 6pm. The current exhibition on view is called "This We Believe", and it features the work of more than 50 notable contemporary artists to explore the power and evolution of belief systems. It was really neat being able to come back to the hotel in the evenings after a full day of adventuring and getting to wander through two floors of the gallery and learn more about the works of art!
Stay
We couldn't have asked for a better or more relaxing stay at 21c Museum Hotel during our time here in Chicago. I loved being able to walk straight out of the hotel to meet the hustle and bustle of the city, with the best shops and eateries right at my doorstep. The hotel is also a great base for those visiting Chicago for the Immersive Van Gogh Exhibit, and they actually have an amazing Van Gogh and 21c Experience package currently! In addition to room accommodations, the offering includes: two premium-flex tickets to the Immersive Van Gogh Exhibit, Uber credit to use to and from the exhibit, welcome amenity and $10 mini bar credit, as well as early check-in/late check-out! You can find out more through the link here.
Room
21c Museum Hotel Chicago offers a variety of different rooms and suites to meet your needs. Each room comes equipped with free WiFi, HDTV flat screen TV, Malin + Goetz bath amenities, and wellness kits that consist of hand sanitizer and disinfectant wipes. We had the opportunity to stay in a luxurious corner suite, and I loved the contemporary artistic decor and sweeping views of the city from the large windows in our room! The separate living area was also spacious with a large sectional sofa and cute little breakfast nook. The floor mirror against the wall was also beautiful and perfect to use when getting ready in the morning. And the bathroom was gorgeous! It was super spacious for two people with a dual vanity, and I really loved the gold details on the faucets and sliding barn door. The shower was honestly one of the most relaxing showers I've had in a while.
The other room types available at the hotel are the Deluxe Two Double, Deluxe King, Deluxe King Accessible, Deluxe Two Queen, Studio Suite, Deluxe Queen Suite, Luxury King Suite, and 21c Suite.
Eat
Adjacent to 21c Museum Hotel Chicago is the Lure Fishbar, which serves a selection of fresh seafood dishes, raw oysters, and world-class sushi. They are currently open Tuesday-Saturday evenings and also offer in-room dining service for breakfast, lunch and dinner.
With so many other food places nearby though, we opted to explore other options in the vicinity this time around. You can't really say you've visited Chicago without trying the famous Chicago style deep dish pizza, so we really appreciated having Lou Malnati's in such close proximity from the hotel! Another great choice for fresh Italian pastas and pizzas was Eataly, which is right around the corner from the hotel. One of our absolute favorite spots for breakfast and lunch though was Goddess And The Baker, which was only a few minutes walk from 21c! It was our first time checking out one of Chicago's most beloved coffee spots, and it definitely did not disappoint. I ordered their Strawberry Banana Waffle, while Tom got the Steak and Eggs Protein Bowl. We also shared a slice of their famous rainbow cake (which was delicious!), and I just had to try the Glitter Gold Latte, which definitely lived up to their "Goddess" namesake!
Amenities
Aside from the free contemporary art museum that is open 7 days a week for 365 days a year, the 21c Museum Hotel Chicago also offers over 10,000 square feet of exhibition and meeting spaces. There's also a 24-hour fitness center and the convenience of an enclosed parking garage behind the hotel. Currently, they're also offering half off the rate for 24-hour parking ($25), which is quite a steal when it comes to downtown Chicago parking!
Spa Service by Soothe
One of the amenities I really enjoyed and which made my trip so much more relaxing during my time at 21c Chicago is their spa services and treatments. 21c Chicago has partnered with Soothe, which unlike other spa services in hotels, boasts top-rated, licensed wellness and personal care service professionals that come directly to your hotel room for your massage or service! It was so convenient to have my massage therapist meet me in the comfort of my own hotel room to create a wonderful spa experience. 21c Chicago does also have three on-site treatment rooms as well for those who'd rather schedule a service outside of their room.
I ended up enjoying a one hour Swedish massage, and it was honestly one of the best massages I've had. I felt so pampered during my stay and can see myself using the Soothe app regularly as well to book massages on demand from now on! 
Location/What's Around
If you couldn't already tell, 21c Chicago has a lot going for it in the heart of downtown Chicago. Situated just steps from the famous Magnificent Mile shopping district, all the best shops, dining and entertainment are literally right at your fingertips from here! Some of my favorite attractions less than 3 minutes away from the hotel include Eataly, an amazing spot for authentic Italian cuisine and products, the Starbucks Reserve Chicago Roastery (the largest Starbucks in the world at more than 35,000 square feet!), and an amazing fried chicken + donut joint called Do-Rite Donuts (who knew a donut chicken sandwich would be such an awesome combo??). You also can't miss the Chicago Riverwalk or Chicago Symphony Orchestra!
And only a ten minute drive away is the Immersive Van Gogh Exhibit, which is currently running through the end of November in Chicago. This was an incredible experience to view Van Gogh's art in a "larger than life" way, and you almost felt as if you were walking inside his paintings. I'd say the music and experience was on point for this exhibit! I'd also be remiss if I didn't mention again that the hotel is offering a Van Gogh and 21c Experience package, which includes two premium-flex tickets to the Immersive Van Gogh Exhibit, Uber credit to use to and from the exhibit, welcome amenity and $10 mini bar credit, as well as early check-in/late check-out!
Another fun attraction only a short drive away from 21c is the WNDR Museum, which helped round out our art-filled itinerary. Unlike traditional art museums, WNDR is super unique in that each art installation offers the viewer a chance to interact and engage with the art in multi-sensory ways. It's truly such an unexpected and fully immersive experience; I had such a blast experiencing the 20+ installations here! Due to current COVID restrictions, masks are required and you must experience the museum in a linear fashion – there is no going back to a previous installation once you head forward to the next one. We ended up spending about an hour and a half here, although you can honestly spend as little or as long as you'd like at each installation. (I'd also recommend visiting an hour or two before they close so you don't have as much pressure with people waiting in line behind you at each installation!)
The only installation that is timed is Yayoi Kusama's Infinity Mirrored Room – "Let's Survive Forever", which allows you one minute to appreciate the mirrored reflections of this art piece.
If you have time to explore, I'd highly recommend making a visit to the WNDR Museum . Plus, in addition to the Van Gogh & 21c Experience Package, 21c Museum Hotel also offers the "Unlock Chicago Package" that unlocks great deals at the hottest attractions in Chicago when showing your 21c room keycard. For example, by showing your 21c room keycard at WNDR Museum, you can get a free token for the photo booth!
Quick Facts
4-star hotel
24-hour fitness center
On-demand spa service with Soothe
On-site full-service bar and restaurant (Lure Fishbar)
Same day laundry and dry cleaning services
Pet-friendly rooms ($75 fee)
Free Wi-Fi
24-hour free hotel museum access
21c Museum Shop
Our stay at 21c Museum Hotel Chicago was so fun and memorable, and the two nights here went by so quickly! We loved living in the heart of the city and enjoyed the decor and detail that went into our room. I can definitely imagine myself staying at 21c Chicago again, especially to check out their rotating art exhibits!
I hope this hotel review was helpful to those looking for a unique stay in the heart of Chicago. For those who love art or enjoy a more unique boutique experience compared to the "cookie-cutter" box chain hotels, then I'd highly recommend staying at 21c Museum Hotel Chicago. Have you stayed at a 21c Museum Hotel before? We'd love to hear your experience staying in one!
P.S. – make sure to book directly through the hotel's website for special rates and offers!