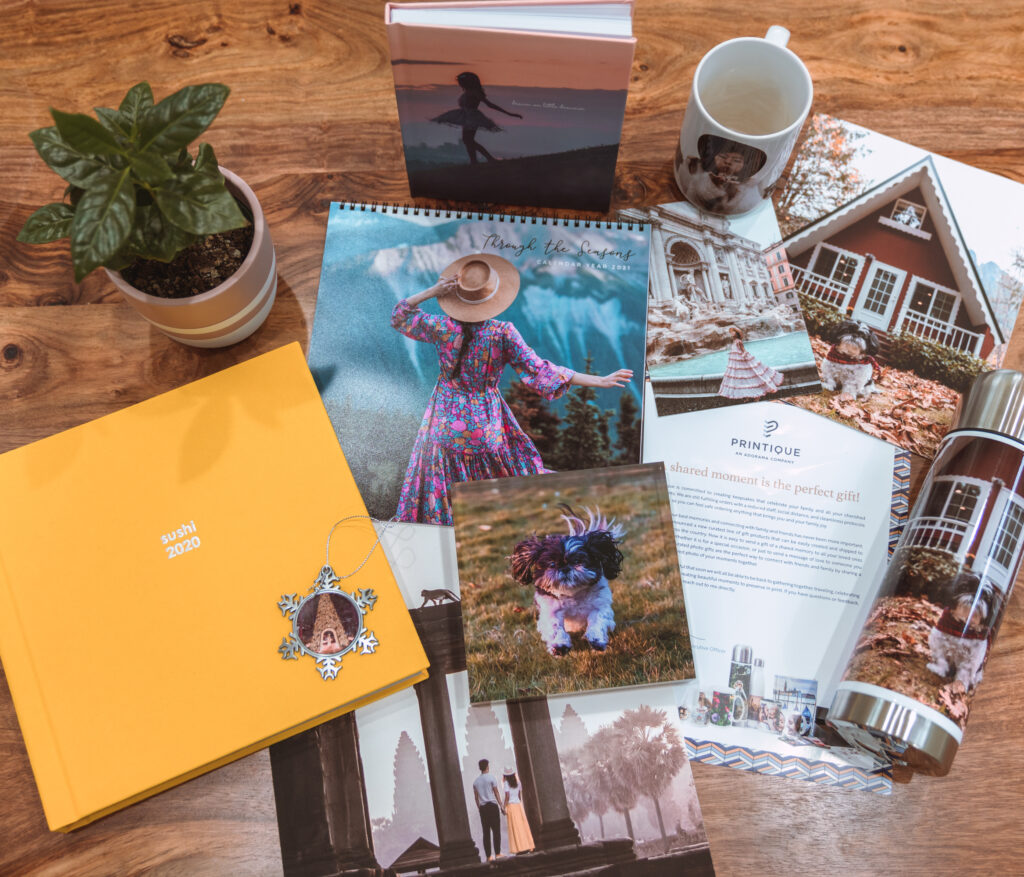 What We Think
Printique is an easy-to-use online printing service that offers a wide range of unique and personalized gifts, from large wall prints, photo books, calendars, and more. Although they aren't the most affordable service to use, the quality of their prints are top notch, the product packaging is superb, and their photo book product with a wide range of custom designs, excellent paper options and lay-flat construction is one of the best we've seen on the market.
All the products here at Wit and Folly are reviewed independently. This post may contain affiliate links, where we receive a small commission at no additional cost to you. We only feature products that we like and would recommend and the affiliate commission helps support our business. Thanks again for supporting Wit and Folly!
PROS
Well-made products with excellent print quality on high-grade paper
Wall decor is all ready to hang upon arrival
A variety of high quality print types and giftable products to choose from
Many different features and options for customizing products
Great website usability and ordering interface with many helpful features
Ability to upload photos directly from your computer, or import photos from Facebook Instagram, Flickr, Google Photos, Dropbox, or Amazon Cloud. Once your photos are uploaded to their gallery, you also get free, unlimited cloud storage.
JPEG, TIFF and large file formats are supported
A variety of standard and custom sizes to choose from for all their products
Fully editable templates for photo book and intelligent content organization
Superb product packaging
CONS
Free shipping is limited to economy shipping and large metal prints 30×60 and over are not eligible for free shipping
No international shipping available (currently only ships to US and Canada)
Inconsistent quality on some gift products – the mug, ornament and notebook we tested were not as high quality as the prints, photo book and wall decor (the gift category is a new line of items that just launched last month, so they will be making improvements and adjusting which products will continue to be available)
Why I Wanted to Try Printique
With the holiday season just around the corner, I wanted to get a head start on finding unique and memorable gifts for my loved ones. But with the rate of COVID-19 increasing in most parts of the country, visiting family or gathering together during the holidays is a risk most people are not willing to take.
Giving a personalized gift that showcases a cherished memory or special moment is a great way to let loved ones know that you're thinking about them during the holidays without being able to be there physically to celebrate together. Customizable photo books, framed prints, and other unique gifting products that Printique offers is the perfect way to show loved ones that you care and are thinking about them during these challenging times.
What to Consider Before Investing in an Online Photo Printing Service
As you're searching for personalized gifts, you're bound to have come across many different online printing photo services that offer very similar products. Yet even though there's a huge number of different printing services available, it's important to note that not all of them are created equal. When you're deciding which printing service to go with, you'll want to consider which one offers the best quality, value, price, selection of products, ease of use, and protective shipping of your print.
Every photo printing service site has its own pros and cons, so it's good to understand the differences before making your decision. I think it's helpful to consider what you value the most before choosing which photo printing service to go with. Are you looking to create a beautiful piece of art for your home, or are you looking to sell your prints or have them displayed in a gallery? Is this going to be a gift for someone, or are you just looking to print out some casual photos for yourself? Perhaps you want a printing service that does more than just photo prints and want one that has a good reputation for creating photo books or albums?
Regardless of the reasons behind why you're looking to invest in photo prints, let's dive into important qualities to consider when deciding on which printing service to go with, and where Printique fits in.
Overall Value
Photo prints definitely range quite a bit in price, and most of the time, I do believe you get what you pay for. I would be wary of photo printing sites that offer deals that seem "too good to be true," because when it comes to something you'll want to display and cherish for many years to come, or as a gift for someone important in your life, the craftsmanship of the product really does matter.
After using Printique and trying out a wide range of their products, I believe that their fine art prints are at the higher end of the pricing scale, but they also offer great value in all their prints with excellent quality. They also often have sales and coupon offers that make their prints an even better deal. Use the code WITANDFOLLY for a buy one get one free discount on all wall decor!
Furthermore, if you're not 100% satisfied with their print products, you can contact their customer service within 30 days of receiving your order so they can make it right for you. The "Printique Promise" guarantees that they will resolve any issues if your order doesn't meet your quality expectations or is damaged during shipping.
In terms of pricing, their 4-by-6-inch prints start at 31 cents per print, which is in line with some other higher-end printing services, such as Nations Photo Labs (32 cents per 4×6 print) or Mpix (33 cents per 4×6 print). You'll certainly find cheaper prints at places such as Snapfish, or even Walmart or Walgreens, but I'm not sure the quality or customer service holds up.
And as with most other printing services, Printique offers more than just prints. You can order photo books starting at $19.99 for an 8-by-8-inch softcover, and canvas prints starting at $25.99 for an 8-by-8-inch. They also offer metal, wood, and acrylic prints as unique alternatives to the canvas print for you to decorate your home or give as a gift.
Selection of Products
These days, there seems to be a smorgasbord of items that you can have your digital photos printed on – everything from drinkware, clothing, and even shower curtains. Although Printique doesn't offer as many products as some printing services, such as Snapfish (that seems to allow you to embellish anything under the sun), I do think Printique offers more than enough different giftable products to make it a competitive player when it comes to its selection of products. 
Printique's selection of products (besides photo prints) include:
And when it comes to photo prints, Printique offers a wide range of papers to choose from (more than their competitors), with Digital Type C professional quality photo prints using silver halide photo paper and emulsion printing. Their photo prints come in an array of sizes, papers, and finishes including Kodak Endura Luster, Glossy, Matte, Silk, or Metallic; Fuji Deep Matte; and Giclee paper of low, medium, or heavy texture. The latter are defined by higher-quality, finer resolution, and archival paper.
Quality of Products
Printique offers a wide array of print products, and I'd say that the quality also varies depending on the type of product you buy. Overall, I think the higher price tag for most of their offering is well justified by the quality you receive for the majority of their products. The photo book especially stands out, and was by far the highest quality photo book I've ever received (I chose the fabric covered photo book with linen paper, but I can imagine the other options would be of the same high quality caliber).
Of all the products I was able to try, only a couple items did not exceed my expectations. Most notably, I found that some of their photo-imprinted gift items were too expensive given what was received. The metal snowflake ornament I ordered was smaller than I expected, and the imprinted photo had a grainy, low quality look to it. The journal was also disappointing at a pricey $25, with the paper quality of the pages being nothing special, and the imprinted photo color for the journal cover darker than I would have liked. I also felt that the custom center-fold calendar I ordered was flimsier and thinner than I was expecting. However, I was really impressed by the colors of the photos on the calendar, which were vibrant and spot on.
I was also impressed by how well packaged and protected all the products were when they arrived. The photo prints were enclosed in a white parchment sleeve, and then placed in shrink-wrapped cardboard sheets. The wall decor prints were tightly wrapped with bubble wrap and the corners were encased in foam so that they fit inside the large cardboard box perfectly. The box was stapled shut which actually made it a bit difficult to get all the products out (those staples are sharp!), but it also ensured that none of the products would arrive damaged, bent or creased.
Furthermore, the product arrived way earlier than expected, even with standard shipping, and it was super convenient to track the shipment every step of the way with detailed tracking information provided. One thing to note though is that if you're ordering multiple products at once, they might come in separate boxes and at different times, as was the case with my order. (All the items still came well within the standard shipping time frame that they give on their website.) 
Overall, Printique offers a world of options to preserve your photographs for years to come. Their "Printique Promise" guarantees that their products are made with the best possible materials and carefully crafted and prepared by a team of experts. Each photo is printed with meticulous care on the finest material, including professional photo paper, premium canvas, sleek aluminum, and sustainable wood. Every Printique order goes through a rigorous quality process to ensure you receive your order in perfect condition, whether it be for yourself or as a cherished gift.
Who is Printique?
Founded as the in-house photo lab for Adorama over 20 years ago, professional photographers and videographers have long been familiar with the Adorama brand and its photo printing service (formerly known as AdoramaPix). Though the name has changed to Printique, they're still known as one of the best in the photography industry, offering top quality printing and a wide range of creative options for all your photo project needs. Although their products are offered at a premium price, Printique is a great choice, whether you're looking for quality prints that will last for years to come, creating a personalized gift, or you're a professional photographer looking to display your best work. 
Who is Printique for?
Photographers or artists who want to turn their work into high quality wall art
Gift shoppers who are looking to give a high quality piece of art or customized photo book to their friends and family
Anyone who is printing their photography work for the first time
Someone who likes a lot of customization and personalization options
Someone who is looking for quality over quantity
Anybody who wants to display their work, favorite photos and cherished memories for years to come
Who is Printique not for?
Someone looking to print off a large number of photos for the least amount of money
Someone who needs a quick gift without wanting to customize or go through a photo ordering process
Someone wanting to create pillows, blankets, clothes, etc. embellished with their photos
Printique: Our Experience with Their Products
We were able to try out several different products from Printique, ranging from different types of wall decor (canvas, metal, wood, standout, acrylic, and giclee fine art prints), to specialty gift items (ceramic mug, thermos, snowflake ornament, journal), to a photobook and calendar. Read on to learn about all the details of each product and the ordering process!
Printique's canvas images are directly printed on durable, heavyweight and long-lasting cotton, and stretched onto a sturdy, 1½ inch pine wood frame. It has a UV coating that is designed to preserve your print for a lifetime. As with all of their products, it comes ready to hang out of the box. You can choose a canvas print in a variety of sizes starting at 8×8 and going up to a max height and width of 40×30. There's also the option to create a canvas collage if you'd like multiple photos on one canvas. If none of their size options suit you, you also have the option to create your own custom size.
Ordering Process and Why I Liked It:
The canvas print design process on their website is extremely easy to use and allows you to preview your design so that it comes out just the way you want it. After you choose your canvas size, you have the option to choose from 3 different types of borders/framing: "color" allows you to choose a color for the sides of your canvas, "wrapped" stretches your print over the sides of the canvas, or "mirror" reflects the pattern at the edge of your image along the side of the canvas. Once you've decided on your border type, you can also choose to change your photo to black and white or sepia if you don't want to keep the original color.
There's also an option to crop your photo, and I like Printique's feature that tells you how good the quality of your photo will look printed depending on the size of the canvas you choose. The great thing is that all of these custom choices are at no extra cost.
Overall, I found that the canvas print was very well made with the edges wrapped tightly and neatly around the wooden frame. I liked how the canvas gave my photo a softer look, and the printed color was also accurate to the original picture. 
Printique's metal prints are created by infusing images onto aluminium with glossy metallic to matte finish options. This ended up being one of my favorite prints that I ordered from them because it gave my photo a beautiful, shimmering brilliance and magical look to it. 
Not only do metal prints give a unique high shine look to your prints, but they are also durable, scratch resistant, and archival, ensuring your artwork lasts. You don't have to worry about a piece fading in the sunlight or getting water damage while cleaning it. You also don't need to use a frame when you choose to print on metal, and a variety of mounting options are available to suit any style.
Printique's metal prints come in a variety of sizes (up to 40" x 60") as well as different shapes, and even a triptych or collage option, too. Depending on the size you go with, you'll also have to decide how you'd like to mount your metal print. Printique offers a magnetic strip, metal easel, and acrylic pedestal for smaller sized prints, and a wall float, which is the mount style I ended up choosing for my 12 x 18 metal print.
Ordering Process and Why I Liked It:
The ordering process for a metal print is very easy and similar to the canvas print, in that you have the option to crop your photo and also get a measure of how good the quality of your photo will be depending on the size you choose. Once you choose your print size and shape, you also get to choose among four different finishes: glossy white, white satin, glossy silver, and silver satin.
If you're feeling overwhelmed with the number of finishes to choose from, don't worry, because Printique offers a description for each finish type on their website to help you choose. And honestly, one of the main reasons why I love the metal print is because of these different finishes. Depending on the type of photo you choose, some finishes allow the metal to show through the white colors in a photo, giving it a really unique and special look.
I ended up getting my print with the glossy silver finish because I really wanted the stars in the night sky of my picture to shine through and give my print an overall luminous look and feel, sort of like in an enchanted forest.
Whether your metal print is a stand alone piece or part of your wall gallery, it will undoubtedly stand out among other photos. Colors on a metal print are often more vibrant and have higher contrast compared to other prints because of the dye-sublimation process it undergoes. If you'd like to learn more about metal prints and the process it undergoes, you can find out more information from Printique's article here. 
For a more rustic and natural style, look no further than Printique's wood prints. These prints make great gifts, especially for the nature-lovers in your life. Printique only uses wood certified by the Forest Stewardship Council, which regulates impact on the environment and makes these prints eco-friendly and sustainable. Each wood print is ¾ inch thick, with sanded edges, and is both water and heat resistant.
Ordering Process and Why I Like It:
It took me a while to decide on a photo to use for a wood print, but after seeing the finished result with the natural grain of wood showing through the photo, I realized that any photo that you want to have a soft matte finished look can work with a wood print.
Sizes range from 4"x6" to 20"x"20, and like all other Printique prints, you have the option for free color correction, changing it to black and white or sepia, and crop ability. You can also choose for your wood print to have a wooden stand for an extra fee.
I wanted a wood print to go along with my "hawaiian" gallery wall display, and ended up printing a pineapple photo, which really helped tie together the earthy, tropical look that I was going for with my gallery wall. I think it especially compliments the ukulele I hung on the wall really well!
Standout prints are foam core mounted photo prints and are a great alternative to traditional framed prints. Printique's standout prints are available in solid black or white borders and come in a thickness of ¾" or 1½" to give them a three-dimensional, almost floating look off the wall. I really liked all the paper options available for this print, ranging from luster, glossy, matte, silk, metallic, and deep matte, ensuring that you can pick the perfect choice to match your decor aesthetics. 
Printique also exclusively uses a silver halide process, meaning that the image is infused into the paper through a silver-based chemistry and light as opposed to ink printing, resulting in sharper images, finer details in highlights and shadows, and more natural skin tones.
Ordering Process and Why I Like It:
As with all of the wall decor types, the standout print ordering process is simple and straightforward. You can easily change the orientation of the print, rotate your image, crop/zoom, and choose between your photo's original color, black and white, or sepia. All standout prints are ready to hang, and ranges in size starting from 8"x10" up to 20"x30", and photo quality is determined depending on the size you choose.
You'll also need to choose among the six different finishes, and it's super helpful that Printique offers a description of each type of finish. I ended up going with the Metallic finish, which states that it has a "metallic sheen for stunning visual impact and depth" because I plan on hanging my standout print with my metal print and wanted to ensure that the finishes would complement each other.
Printique's newest offer is their HD acrylic prints, which give photos a modern, high-polished and modern look. I could definitely see acrylic prints being used for professional photographers that want to show off their work in a gallery setting, but acrylic prints would equally look beautiful in your own home, office, or as a special gift. Each acrylic print is hand-engineered in Printique's own lab and printed on polished, optical-grade, glass-like acrylic. The result are prints that are crisp, sharp, vibrant, and studio-quality.
Ordering Process and Why I Like It:
I was really excited to try Printique's acrylic prints out because they have various options for thickness, size and mounting style, which I didn't see on other printing sites. The sizes start as small as 2"x2" for an acrylic block and up to a max size of 30"x40" for a wall print. Acrylic blocks are 1.125 inches thick, meaning they can stand upright on their own. Acrylic wall prints are 0.25 inches thick and have the option of an easel, acrylic pedestal, mounting posts, or wall float for any size 8"x10" or smaller. Prints larger than this have the option of mounting posts or wall float.  I ended up choosing a larger print with mounting posts, a medium sized print with wall float, and a block print.
I really love how modern, glossy and elegant the acrylic prints look, and how the light shines through or magnifies the photo, depending on the angle you're looking at it from.
I found that the mounting posts on my largest print really elevated its look and made it seem like something you'd see in an art gallery. You can choose between gold, silver or black aluminum for the mounting posts depending on what matches your photo and interior decor more. If you don't like the look of wall mounts on your photo (I personally think they look better on larger prints), then the wall float also gives a timeless elegant look, as if your print is floating off the wall. 
And for the block print, it had a substantial weight and almost reminded me of a paper weight! I also like the idea of an 8"x10" block print to have sitting on your desk for a more modern look without the need of any frames.
Overall, acrylic prints really highlight the depth and brightness of your photos, so I'd recommend choosing more vivid, vibrant, or high contrast pictures to use for acrylic prints, such as the crashing of ocean waves. They really bring out the light and details of your photos in a mesmerizing way!
If you'd like your photos to have a more artistic and textured look, then Printique's Giclee fine art prints are a timeless way to display your best pictures. They are made from high-end 100% Hahnemuhle fine art papers and come in 3 different textures:
– Low Texture: The world's first digital Fine Art Inkjet paper is made with 90% bamboo and 10% cotton with a smooth finish. Use for warm-toned color and monochrome prints for the highest archival standards.
– Medium Texture: Traditional watercolor paper adds an artistic touch to any photo. The textured surface is perfect for virtually any image, including digital art and black & white or color photography.
– Heavy Texture: 100% cotton offers a ridged surface that will add noticeable texture to your photos. Use this paper for any photographic and fine art reproduction.
You can read about these three different types of paper as well as their other offerings here. 
Ordering Process and Why I Like It:
Printique's Giclee prints are available from the smallest size of 4"x6" up to 40"x60" in all three paper textures. Of all the photo prints that Printique offers, I'd say that giclee prints are their highest type of printing and are great for professional photographers who prefer thicker, more textured inkjet printing. Compared to standard photo prints, I found that the Giclee prints had a more three-dimensional feel; I had my photos printed on their heavy texture paper, which also added a unique grainy quality to the prints.
The cool part about the ordering process for the Giclee Fine Art prints is that there are two different setup modes to choose from:
Express Order Mode – If you know you want to order multiple prints of the same size, paper type, and quantity for all photos, then this mode is great to batch order and speeds up the process
Detailed Order Mode – If you're ordering prints of different sizes, paper type, and quantities, then this mode is great to customize each photo you're printing
From hardcover, leather, fabric, softcover, and even mini books, Printique covers it all. With their powerful and flexible PixPublisher editor, you can easily build a photo book by choosing a customizable pre-made style template (by category), or create your own from scratch while using their design suite's many tools. They also make it easy to preview your book and conveniently stores all your photos you want to use for the book in one place.
Most photo books come in three different shapes: landscape, portrait, or square, with sizes ranging from 6"x4.5" to 12"x15". I like that the site also shows you how big each size is relative to a person holding it so it's easier to gauge which is the right size for your book.
There are also many book cover options to choose from depending on the type of cover you get:
Hardcover: Design a custom cover with an image that spans across the front and back of the book, or choose multiple images. Also the option to display words or a title down the spine of the book with over 80 typefaces to choose from. (available in all three shapes; min 6"x4.5" to max 10"x12.5")
Softcover: Design a custom cover with an image that spans across the front and back of the book, or choose multiple images and create a collage for the cover. Softcover books are a great way to create a series of books as they only come in one size: 8"x8".
Fabric: You can choose from 13 different fabric colors, which serve as a great way to coordinate with a theme. You can also opt for a cover die-cut window where you can display one of your photos, or have it completely covered in fabric with two line display areas for an embossed title on the front. (available in all three shapes; min 6"x4.5" to max 10"x12.5")
Leather & Lux Leather Alternative: For a refined and luxurious look, design a photo book with a rich leather cover that's available in ruby red, quarry gray, onyx black, or saddle brown. Printique also offers a leather alternative that gives the same supple feel and long-term durability of genuine leather, but at a more affordable price. Lux Leather comes in 13 different colors, and genuine and lux offer three different options for custom inscriptions: debossing (colorless engraving), silver foil stamping, and gold foil stamping. (available in all three shapes; min 6"x6" to max 12"x15").
Mini Softcover: Like the softcover book, but in a fun, pocket-sized version! These tiny photo books are digitally printed with archival inks on 100% recycled paper for both the cover and inside pages. They come in three sizes: 7"x5" portrait, 4"x4" square, and 5×7".
And for an upgrade to a higher-end product, Printique's Premium Flush Mount Albums are ideal for once-in-a-lifetime occasions or experiences, such as weddings, baby's first year, anniversaries, or anything else that you want to keep as an heirloom treasure for years to come.
Premium Albums feature thicker, more robust pages and covers, as well as more customization albums. You can order them in premium leather, hardcover, or even with a metal cover. The great thing is that whether you go with a premium album or photo book, all photo books and albums feature Printique's unique "lay-flat" construction, which ensures that each page of your photo book lays flat and is seamless, creating a much better viewing experience so that none of your pictures get lost in the seams.
Ordering Process and Why I Like It:
If you could only buy one item from Printique, then make it the photobook. This was hands down my favorite product I ordered from them, and also probably my favorite photobook I've ordered, ever! I ended up choosing a 12"x12" fabric cover book, and as soon as I opened it, I knew that this book was meant to last a lifetime.
I wanted to create a book of all the memories with our 13 year old Shih Tzu, Sushi, that we could look back on over the years, and this turned out to be the perfect way to do that. I chose a yellow fabric cover, and it was bright, vibrant and rich in color. The engraved title also had depth and shone well against the fabric. The book cover itself was thick, substantial, and made with high-quality materials. All the edges and corners were crisp and clean. Each page of the book also had a great weight and sturdy feel to them – almost as if you wouldn't be able to bend them, and you could tell that it was handmade with care vs. mass manufactured. 
The images all came out with great saturated colors, brilliance, and wonderful contrast, and I think this has to do with the way the photos are chemically developed and produced on 100% professional-grade photo paper from Kodak Endura or Fuji Crystal Archive. 
For the pages, I chose to use Printique's Linen paper, which is a textured finished added to their Luster paper. I absolutely loved the feel of this paper, which felt more tactile and gave each page some texture while still making the photos shine.
The other paper options are:
Luster: Best for first-time photo bookers at the lowest cost. It's a popular hybrid of gloss and matte, that handles a wide spectrum of image types and brings out the best in them all.
Glossy: Delivers brilliant colors, glows with a high-contrast appearance and an almost wet look. Brings an unexpected "pop" to any image.
Silk: Great for wedding photos, silk brings a vintage feel and delicate, soft look to its photos. Texture is linen-like, sophisticated and brings out a subtle brilliance to images.
Deep Matte: This is a great paper to give your photos a more artistic look without as much shine and has a velvety smooth look. It's considered a highly advanced and evolved finish that professional photographers and artists often choose. 
Pebble: A textured finish that's added to their Luster A textured augmentation added to our Luster finish. Texturing is both practical and artistic. On the practical side, texturing is a smart way to deter scanning for unauthorized reproduction and bolster copyright protection. On the artistic side, texturing adds an interesting professional finish to any photograph.
Seasoned buyers looking to add a luxe, artistic or custom feel, while building in copyright protection.
Yes, it's true that Printique's photo books may be more expensive than some competitors, but I think if you're looking for something that'll not only display your most cherished memories in the best light, but a keepsake that'll last for years, then the high quality and craftsmanship put into their photo books are completely worth it.
They even have a nifty tool that lets you calculate the price of your final book depending on the size, cover, paper type, and number of pages you'll want your book to have (the max number of pages per book is 100).
Another great gift or item to display in your own office is a personalized photo calendar. These make meaningful gifts to reminisce or relive certain memories for the next year, especially if you've saved up photos for each month of the year from cherished moments to display. 
You can choose from top hanging calendars, centerfold calendars, or desktop calendars. The great thing about all these types is that they are all highly customizable with Printique's easy-to-use tool. Each calendar is also handcrafted and professionally inspected for color and density.
Ordering Process and Why I Like It:
Since my at-home office wall space is limited, I ended up choosing a centerfold calendar, although I do think the top hanging calendars look really beautiful to make your photos appear larger than life. I also went with a pre-made template just because I found that creating a calendar completely from scratch was too overwhelming with the number of design elements you can use.
I do wish the design template could have been more customizable (there were a limited number of calendar number formats to choose from and a limited number of colors to use as well), but overall, it was still very customizable. I also love that you can add in your own special dates in addition to the national holidays, such as special occasions or peoples' birthdays you want to remember.
In terms of the quality, I was a little let down by the thickness of the paper used- I was expecting more of a cardstock material, but Printique uses actual photo paper for their calendars. This made the calendar more delicate than I expected, but I do think the richness of color and detail of each photo printed turned out really well on the calendar.
Printique offers a wide range of gift items, and I was fortunate enough to try out several of them: the ceramic mug, thermos, journal, and metal snowflake ornament. The great thing about these gift items is that they are all customizable and make unique gifts. In terms of quality, there are definitely much higher quality products out there at these price points, but if you're looking to get one of these gifts, you're paying more for a one-of-a-kind product embellished with your own cherished photos rather than how great the quality is.
Out of all the gifts I tried, the journal and snowflake ornament were the most underwhelming. I just didn't feel like the photo quality for either of these lived up to my expectations – I also made sure that my photo resolution was at the highest quality as well before ordering them, but they came out darker than I expected.
I ordered the ceramic mug for my boyfriend, and he actually uses it every day for his morning coffee! So I think that means he likes it, and so far, there's been no signs of damage or much wear. We've run it through the dishwasher as microwave as well, and it seems to be both dishwasher and microwave safe. 
The thermos, at $45, seems a bit pricey, although the size (25 oz) is much larger than I was expecting – pretty sure you could put a whole bowl of soup (or two) in there! It also comes with a pop up sip inner lid, stainless steel outer lid, and the photo wrapped around the outside turned out nice.
Quick Note on Printique's Ordering Process
Ordering from Printique is straightforward and easy-to-use. I won't cover the step-by-step guide on ordering since the process is simple to understand once you're on the website. However, I do want to mention a couple of neat features that may enhance and help you during the creation process.
Wall Design Wizard: This is a great tool if you're planning on buying multiple prints of different shapes or sizes, or if you just want to conveniently see how your photos will look displayed up on the wall. There are different wall gallery arrangements to choose from, different rooms to mock display your prints, and even different wall textures to better match your own wall at home. They also have the option to upload your own room photo so that you can truly get a realistic sense of how the prints will look in your own home. 
Projects: Once you sign up for a Printique account (which I recommend as it's free and stores your order history/you can easily track your purchases), there's a section called Projects, which is where you can view previously created projects, continue working on projects you've started, or create new ones. It's a super convenient place to see everything at once, and it neatly organized into the different product categories.
Photo Galleries: Printique allows you to upload and store an unlimited number of photos in their galleries section, where you can easily organize different galleries for different projects, and also share your photos to the public on printique.com or with specific people. If you're working on a project, this is a great way to store your photos directly on their site to come back to at a later time.
Sample Packs: If you're just not sure yet which type of prints or products are best for you, Printique also offers heavily discounted photo print sample packs starting at $5. Of course, these will be stock images you're receiving, but it's a low cost way of trying out their products first before committing to a purchase.
If you have any additional questions on the order process or customizing your prints, check out their FAQ here!
Conclusion
After comparing multiple photo printing service options and trying out a wide variety of Printique's products, I can honestly say that I'm very impressed with the quality of their prints and photo books, the ordering process, and fast shipping.
Although there's a wide range of options available when it comes to printing services, Printique is a tried and true brand if you're looking for high quality products made with the best papers on the market that is guaranteed to last. Their excellent customer service, great website interface, superb product packaging and fast shipping makes ordering with them even easier. In my opinion, this puts Printique at the top of high quality printing services and just goes to show how much they truly believe in their product and care for their customers.
Thanks so much to Printique for letting me test out their service!