Cannon Beach was one of my favorite locations that we visited during our Oregon Coast road trip and I can't wait to share with you what I learned from my 5 days stay there!
There really is an unlimited amount of things you can do while visiting, but I'm guessing most of you are only visiting for a short time.
So, my goal with putting together this "Things to Do in Cannon Beach" article is to cut through the noise and let you know what you absolutely must do when you visit.
My big tip for your visit is to make sure you're not taking Cannon Beach itself for granted.
Even though there is a lot to do in the surrounding area and it might seem repetitive to go to Haystack Rock and Cannon Beach at different times of the day, it's worth multiple trips and it will be a different experience each time.
1. Sunrise and Sunset at Cannon Beach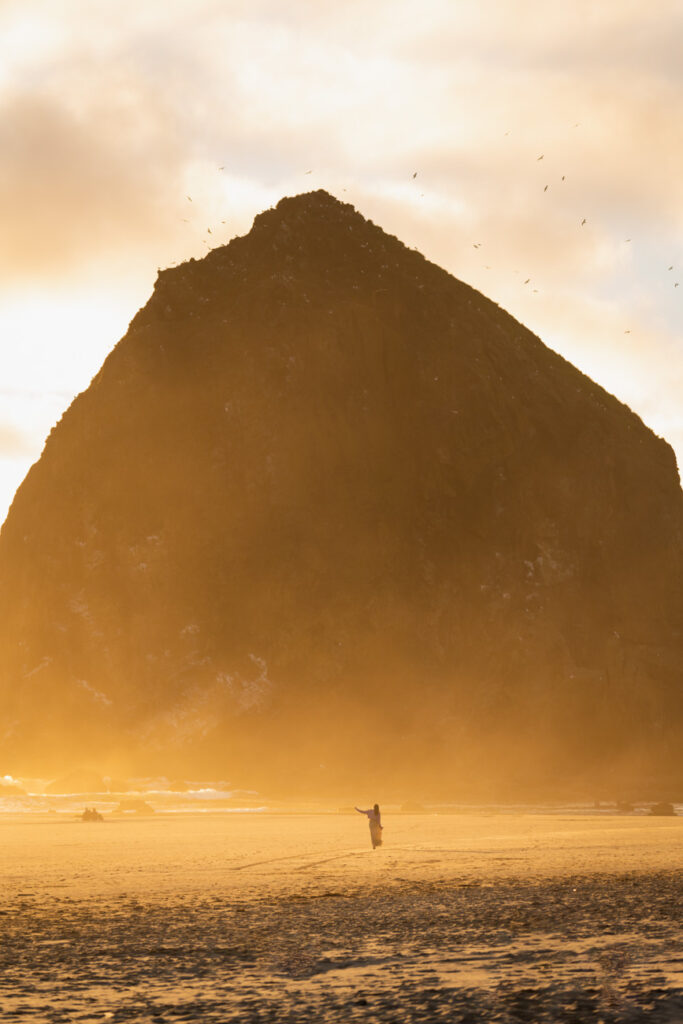 Of course, it'll depend on what time of the year you're visiting and how the weather is.
However, if you can, make sure you go to Cannon Beach for both Sunrise and Sunset. The reason why is because the beach has a completely different atmosphere depending on what time you go.
When you go early enough in the morning, you have a good chance to have the entire beach to yourself. There might be a magical, surreal layer of fog covering the beach, and you could even catch the last moments of the setting moon like I was able to.
For all of you photographers and videographers, sunrise is when you'll get all the soft pink, purple, and orange colors in the sky. Plus, it's also the time of day when the birds are most active around the haystack rock area, especially in the spring/summer months.
On the other hand, when you go for sunset, even though you won't have the entire beach to yourself, you'll still have the chance to see the intense warm glow from the setting sun. Additionally, with so many people around to watch the sunset, it gives the beach a party-like atmosphere.
For those of you who are taking pictures or videos, sunset is a can't miss too.
Watch for the right moment and you might even be able to capture the setting sunlight hitting a mixture of ocean spray which can give the atmosphere an otherworldly vibe like this image I took.
Depending on when you go in the year and what location the sun sets in, you might even be able to capture a sunstar too as it sets below the haystack or one of the needles.
Photo Tips
Tip #1: Path Leading to haystack Rock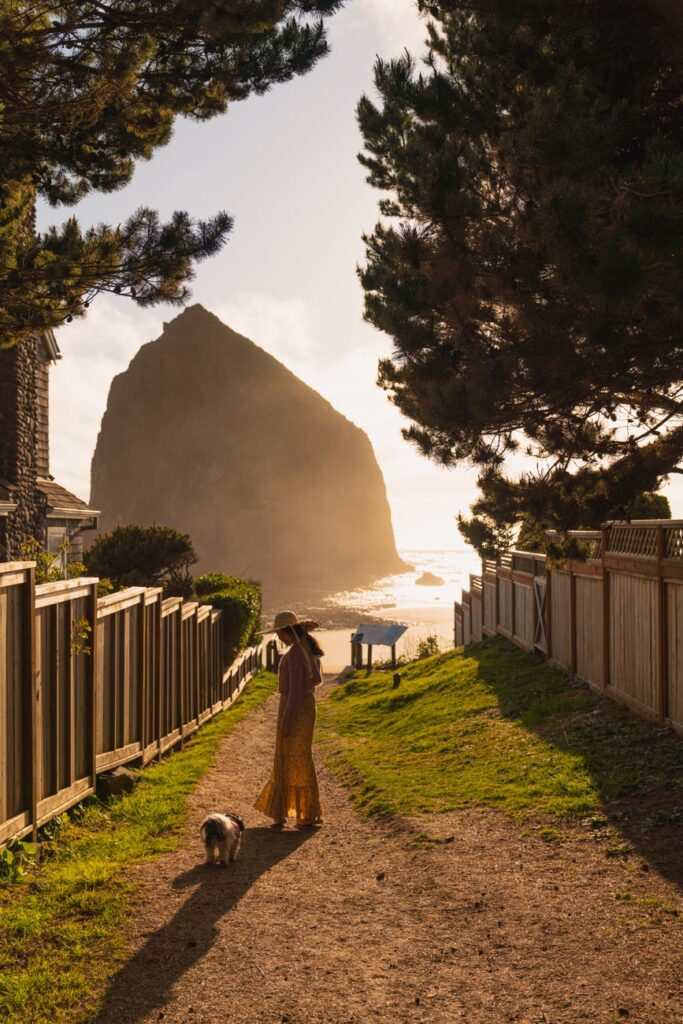 This is a great composition to shoot at sunset as the warm glow of the setting sun lights up haystack rock in the distance. I like this shot because the leading lines from the path intuitively lead you through the image and to haystack rock.
This path is located on the southern edge of the town and about a 5-minute walk from Pelican Brewery. In case you need help finding the path, here are the GPS coordinates 45.88490346296927, -123.9632865469764.
Tip #2: The Two Sides of Haystack Rock
There are two different sides of Haystack Rock which make for completely different compositions. One side is from the south side of Haystack Rock facing north and the other side is from the north side of Haystack Rock facing south.
Since the beach is so long, it's good to keep this in mind as you'll most likely only have time to capture one side of Haystack Rock if you're shooting sunrise or sunset.
Here are what the two different compositions look like. I don't think there is a "better" side of Haystack Rock, however, you might like the look of one side versus the other.
Image from the south side of Haystack Rock facing north.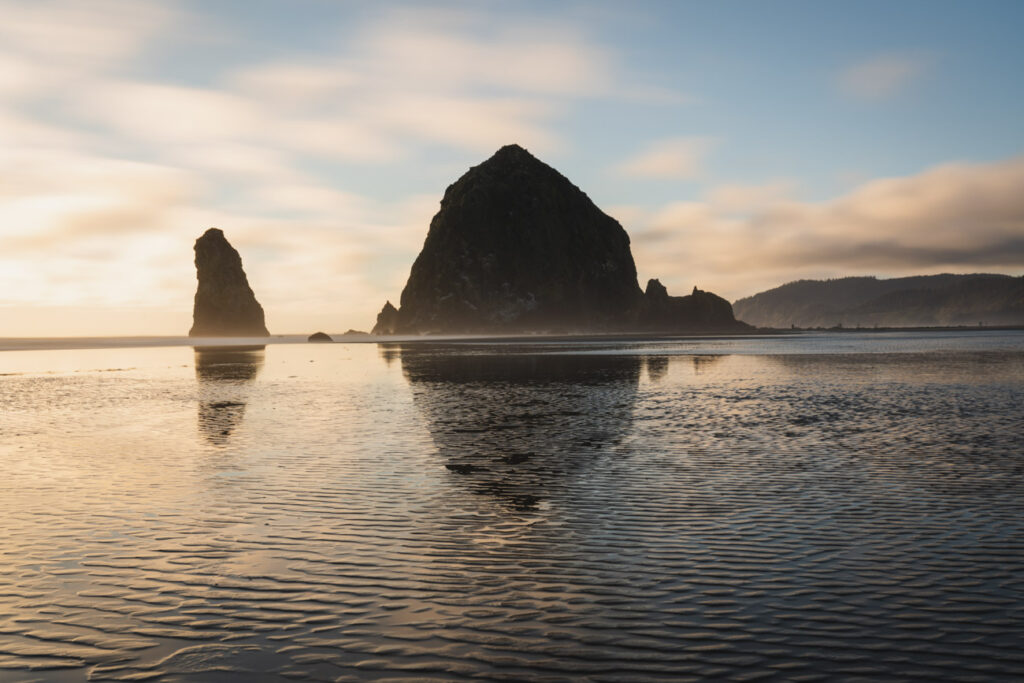 Image from the north side of Haystack Rock facing south.
2. Low Tide at Haystack Rock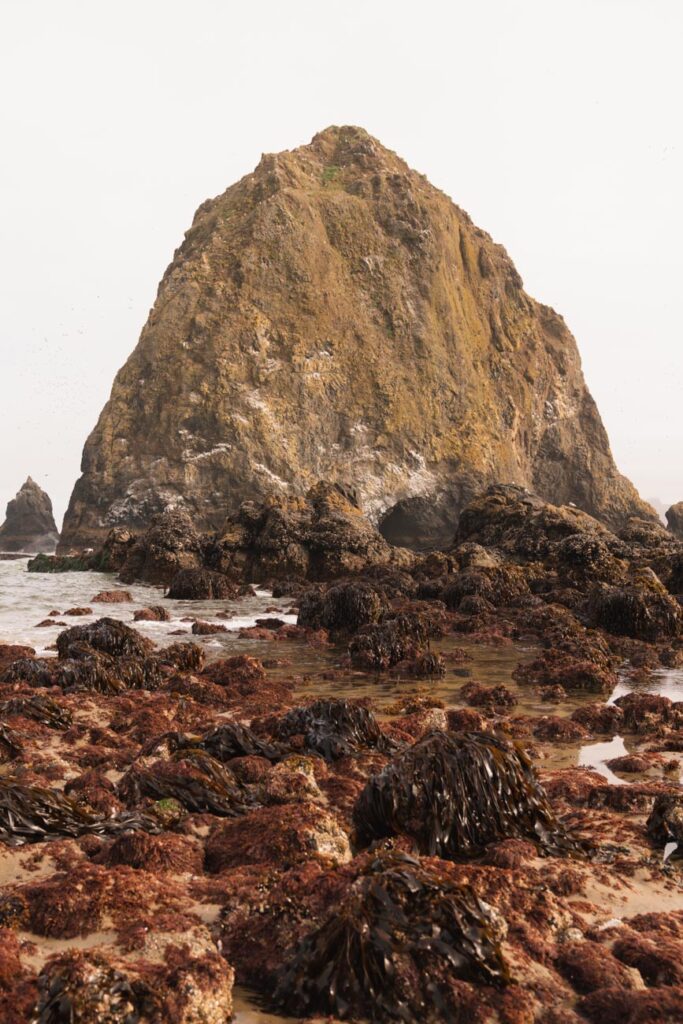 At low tide don't forget to get up close to Haystack Rock. Even though it might be tempting to spend your time walking along the beach or relaxing on the beach, make sure you get to Haystack Rock.
At low tide, the marine gardens and tide pools that surround Haystack Rock are revealed. When you get up close, you'll get a chance to see all sorts of sea creatures like sea anemones, starfish, barnacles, little fish, and much more. It's pretty much like walking through an open-air aquarium!
Also, since Haystack Rock is a marine garden refuge, there are volunteers around the area during low tide. These volunteers not only help protect the exposed marine gardens but are also there to answer any questions you might have.
If you want to learn more, the Haystack Rock Awareness Program also offers private guided tours which are $35 per person for a 90-minute tour. Here is a link to their website for more information.
3. Bonfire at Night on Cannon Beach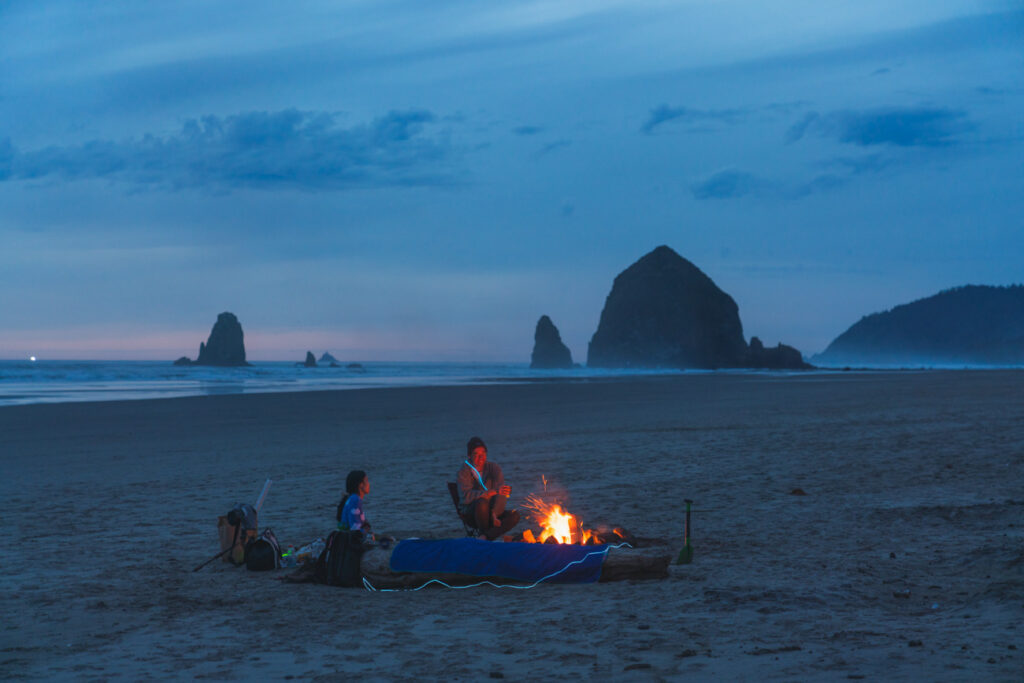 I think one of the coolest things about Cannon Beach (and many other beaches in Oregon) is that you're allowed to set up a bonfire right on the beach without having to buy any type of license.
If the weather is nice when you visit, a bonfire is a definite must-do and is an awesome way to end the day at Cannon Beach.
Here's a tip on how to make it easier to set up a bonfire on the beach especially if it's your first time.
Bonfire Tip: Buy your firewood and all the groceries you need for an epic bonfire from Fresh Foods. Then park right across the street from Fresh Foods in the Tolovana Beach State Recreation Site parking lot.
Parking here is free and there is direct access to the beach right from the parking lot. This way you won't have to carry all your bonfire equipment such as blankets, firewood, and food a long distance and it makes packing up in the dark much easier too.
4. Short Sand Beach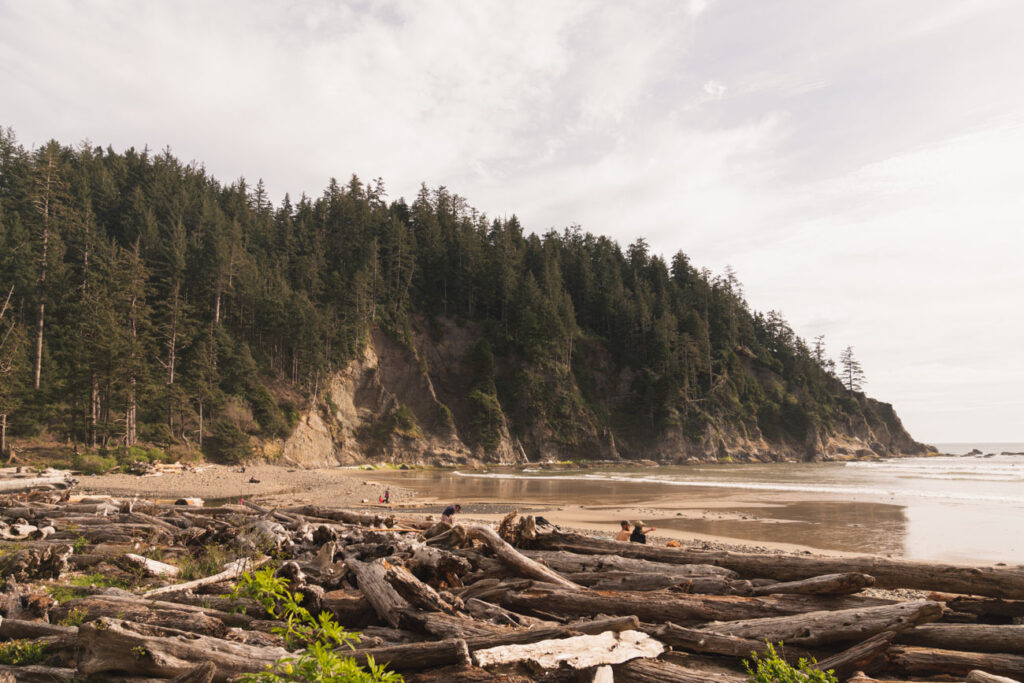 Short Sand Beach is a super chill beach that's one of the most popular surf spots on the Oregon Coast. What's nice about its location is that the beach is located in Smugglers Cove so it's protected from the unpredictable environment.
What I like about this beach is that it's big enough so you can easily find a place to yourself and there is driftwood lining the edge of the beach which can make for good locations to set up. The short half-mile walk to the beach is also pretty cool as the trail takes you through a forest filled with Sitka Spruce Trees.
The easiest way to get to the beach is to park at this parking lot. From the parking lot, you'll see signs and probably surfers heading for the trail to the beach.
As a heads up, I've heard the parking lot can get super busy during the summer months because it's also prime parking for other hikes in the area. So, just keep that in mind if you're visiting in the summer.
5. Oswald West State Park From Elk Flats Trail Head
There is a huge amount of hikes you can do in Oswald West State Park, but I think this is one of the best bang for your buck trailheads, especially if you're short on time.
The reason why I like the Elk Flats Trail Head is that it gives you access to two different short hikes with stunning and unique views. We finished both hikes in about 2 hours, but I also brought our little Shih Tzu so we were moving pretty slowly.
Here are the two hikes.
Note: As a heads up, both hikes are relatively easy, but there are certain spots where it's steeper, especially near the end of the Elk Flats Overlook hike. On the Elk Flats Overlook hike be extra careful if you're going during bad weather as there are no railings along the sheer cliff drop-offs.
Hike #1: Devils Cauldron Overlook Trail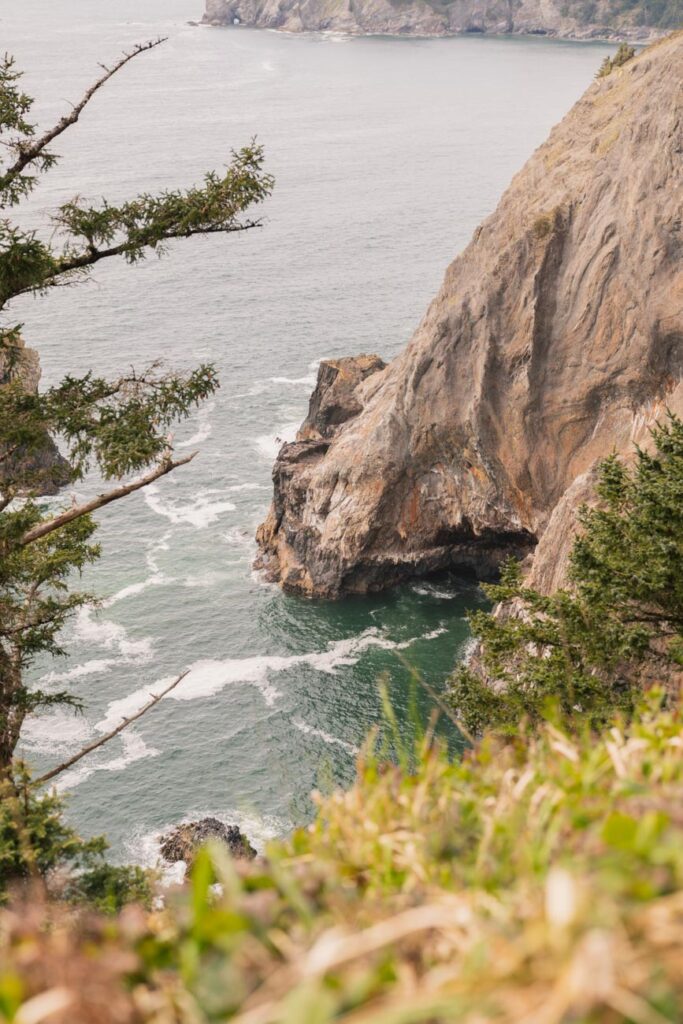 The Devil's Cauldron Overlook hike will take you up into the forest and cliffs where you can get an epic top-down view of Devil's Cauldron. The hike itself is well marked, well maintained and the cliff edges are fenced off.
Overall, the hike was easy and the incline was gradual.
Hike #2: Elk Flats Overlook Trail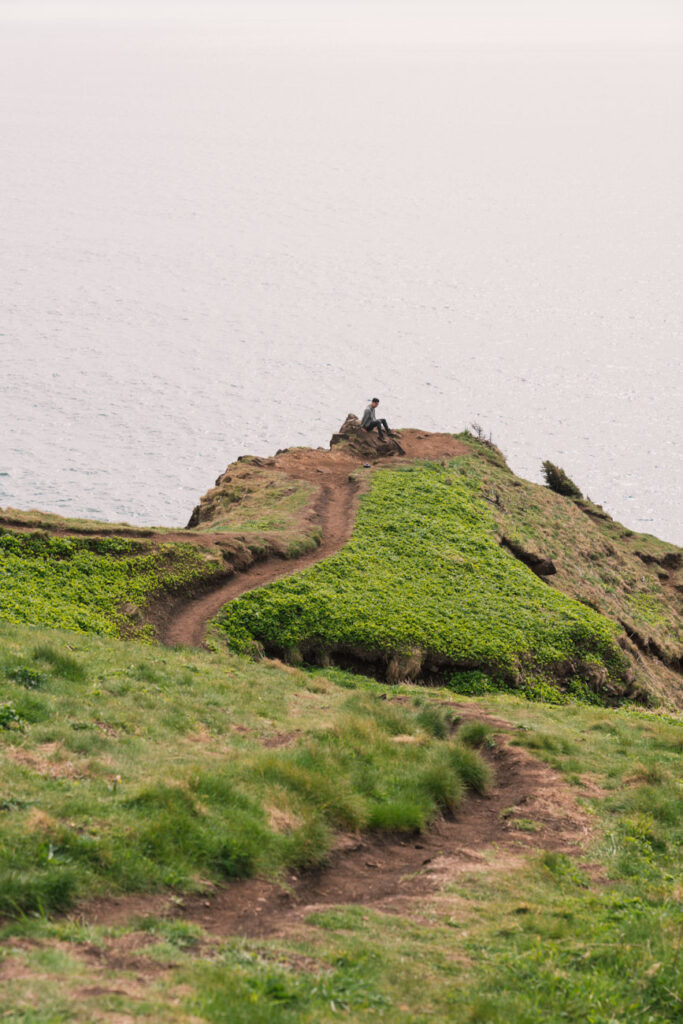 The Elk Flats Overlook Trail takes you on a windy trail to a naturally made outlook point that juts straight into the ocean with sheer drops on each side. From this outlook, you'll get an up-close view of dramatic seaside cliffs, birds feeding and nesting, and the wild Pacific Ocean. Honestly, it was pretty crazy that this view was only a short hike away from the parking lot.
The first 80% of the hike is very easy and relatively flat. However, as you get closer and closer to the lookout point, the trail gets steeper and slightly more treacherous.
There wasn't a single moment when I felt unsafe near the lookout point. But what I will say is that if you're scared of heights or if you're hiking when the weather is bad, be very careful and take your time.
Unlike the Devils Cauldron Overlook hike, there are no railings here to protect you and the cliffside does drop straight into the ocean.
6. Breakfast at Sleepy Monk Coffee Roaster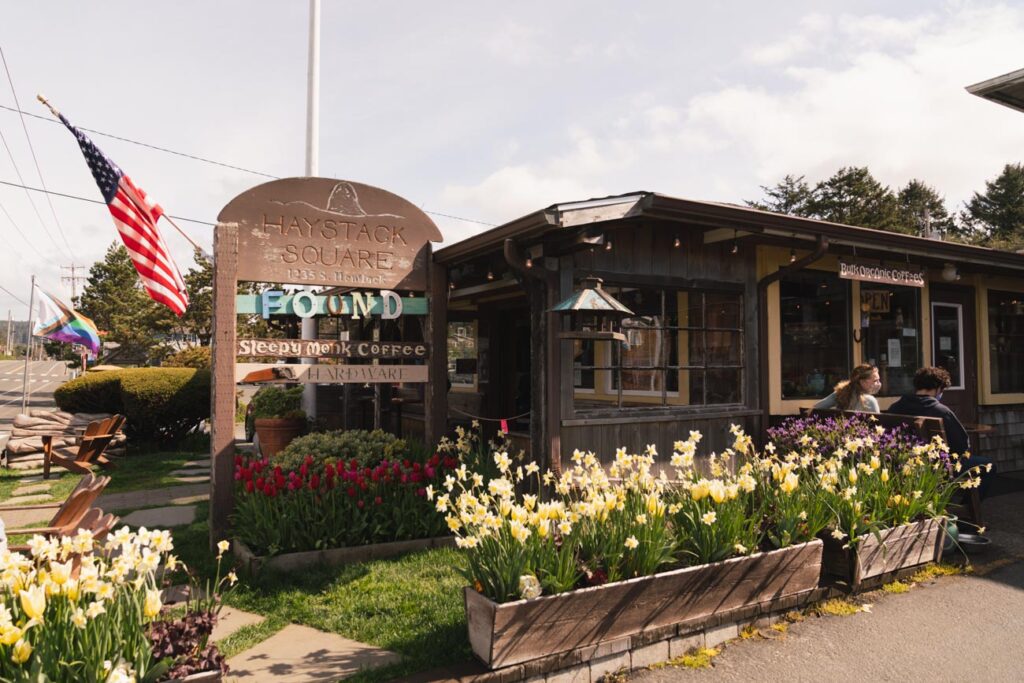 If you know me, then you know both Tom and I take our coffee very seriously. We even have a fancy coffee grinder at home and make pour-overs every morning.
Out of all the places you can get coffee from in the area, Sleepy Monk Coffee Roaster was my favorite one to go to.
The reason why this was my favorite is that they're one of the only shops to roast their own coffee beans and they have some amazingly tasty pastries.
My thinking with coffee is why travel so far only to drink Starbucks or another coffee brand that you can get elsewhere?
7. Ecola State Park Lookout Point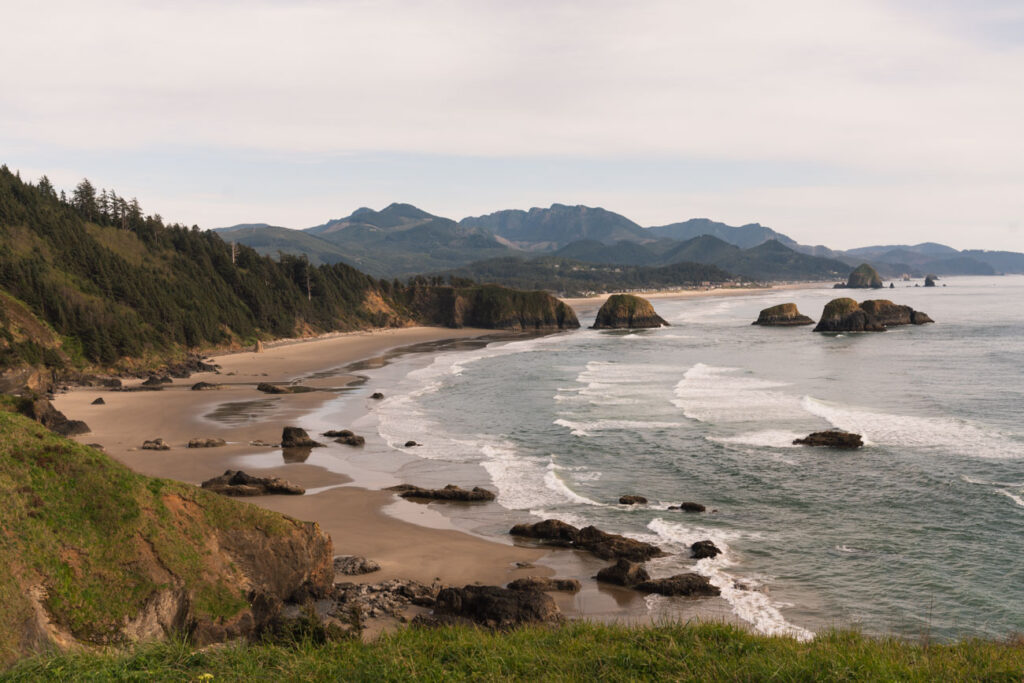 Note: When I went in May 2021, a large section of the area was closed off due to erosion. With that said, it's still worth a visit for the view and you're still able to get a nice photo of the coastline. The only bummer is that it makes it difficult to get a photo with a person in it.
You know how the most scenic site is often the hardest to get to? Well, that's not the case for Ecola State Park Lookout Point!
This lookout point is just a short walk from the parking lot and offers one of the best views of the entire northern Oregon Coast. If you grew up in the 90s and are a fan of The Goonies, you might even remember this famous view from one of the scenes in this movie.
Other than the picturesque view of the Oregon Coast, there are also hiking trails, a picnic area, and a cool view of Tillamook Lighthouse all accessible from the parking lot.
8. Indian Beach – Also in Ecola State Park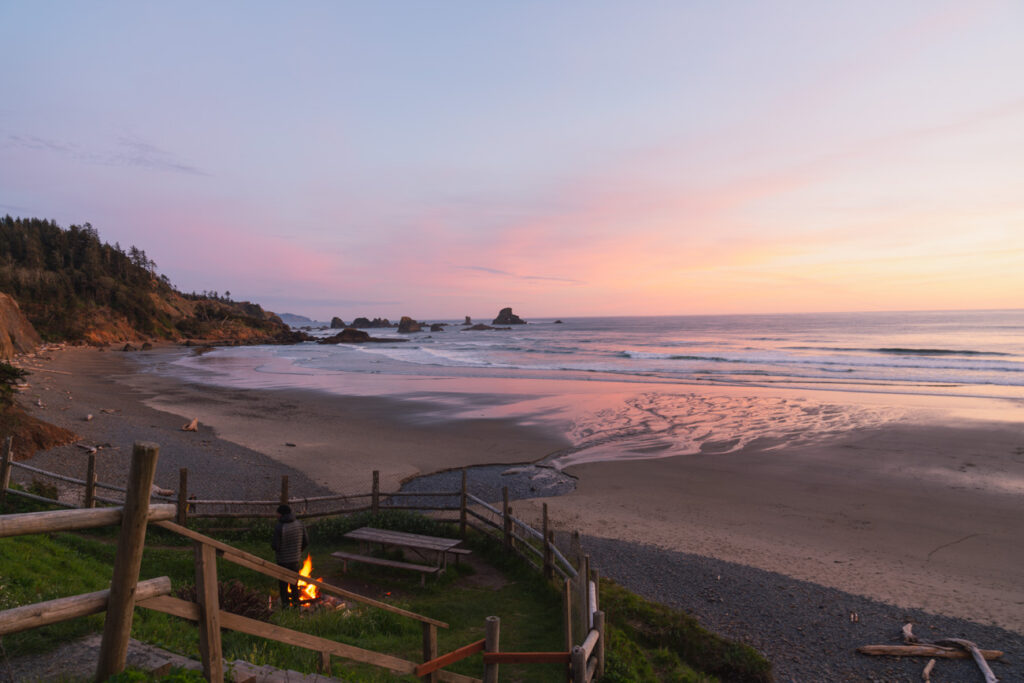 Travel Tip: Since there is only a single road that leads through Ecola State Park and minimal parking space, I've heard that it can get very busy during the summer months. If you're visiting this time of year, make sure to get here early or be ready to wait!
Indian Beach is another super chill beach that is a nice place to go to if you want to get away from the crowds of Cannon Beach.
It's located just a short drive from Ecola State Park Lookout Point so it's a good idea to visit both these locations in one trip if you have time.
What's nice about this beach is that even though it's located next to a parking lot, the views are rugged, stunning, and it feels like you're actually on a wild coastline you had to hike into.
On one side of the beach (side closest to the parking lot), you'll get to see a huge basalt cliff formation and on the other end of the beach (farthest from the parking lot), there are rock formations you can climb on and smaller haystacks in the ocean to view. These natural land formations make it one of the more unique beach landscapes to visit in the area.
Photo Tip: From the beach, you'll also be able to see Tillamook Lighthouse in the distance. Depending on the time of year, you might be able to line up the setting sun with the lighthouse which can make for a nice photo opportunity!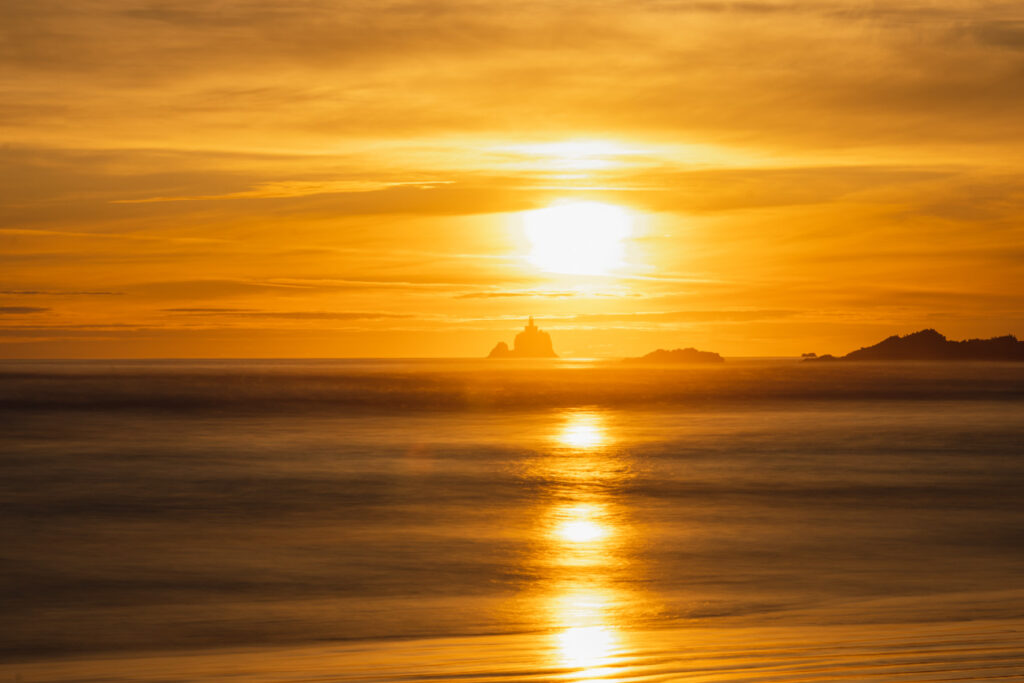 9. Shopping in Downtown Cannon Beach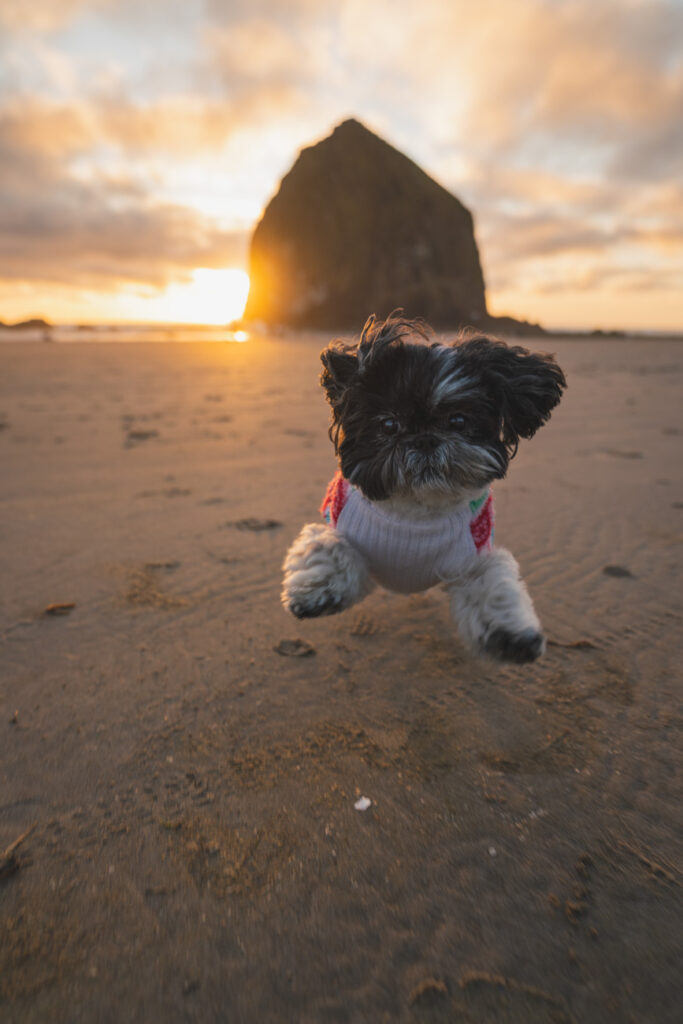 Even though the beaches, hikes, and adventures are the main attractions, the shops in downtown Cannon Beach are also worth a visit if you have time.
In downtown Cannon Beach, you'll find specialty shops and boutiques selling local goods that you wouldn't find anywhere else.
Some of my favorite shops that I visited include the following:
Fetch Cannon Beach – A brightly lit pet shop with a friendly staff where you can find locally made treats for your furry friends.
Yuletides Christmas Shop – A fun Christmas shop with a huge selection of curated ornaments that could make for the perfect souvenir.
Bruce's Candy Kitchen – A beach vacation isn't a beach vacation unless you visit a candy shop, right? Bruce's Candy Kitchen opened in 1963 and has been serving an assortment of homemade candies since then.
10. Visit Seaside for a Blast of Nostalgia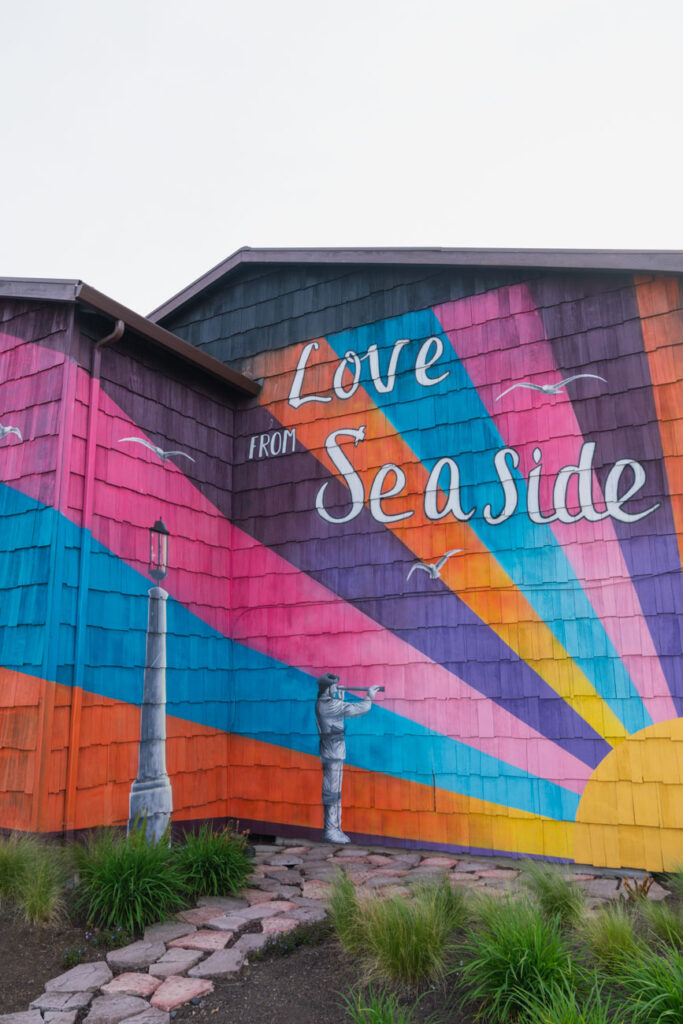 The quaint little town of Seaside might be considered the PNW's version of Coney Island (but don't quote me on that as I've never actually visited Coney Island before…) but the colorful pastel buildings, unique history, and promenade along the beach bring back nostalgic days of yesteryear.
Since we visited while COVID was still happening, the town felt quite sleepy and relaxed, but I'm sure this place got super busy on weekends during pre-covid days!
Most of the shops are your typical touristy stores, but if you like collecting kitschy souvenirs and just feeling like you time-traveled back to the '80s or '90s, then you definitely should make a stop here!
Plus, it's just a nice change of pace and scenery from the rest of Cannon Beach vibes.
Photo Stop: If you're into colorful murals, then there's a fun one of Lewis and Clark on the side of Coast River Inn!
Pro Tip: Make sure to stop by the visitor center first for lots of good information and super friendly staff! (Also a great place to collect free stickers, postcards, and pamphlets if you're into that stuff). If you're doing this trip from North to South, then the visitor center is also a good stop for more information on the rest of the northern coast of Oregon too!
Skip – Pelican Brewery in Cannon Beach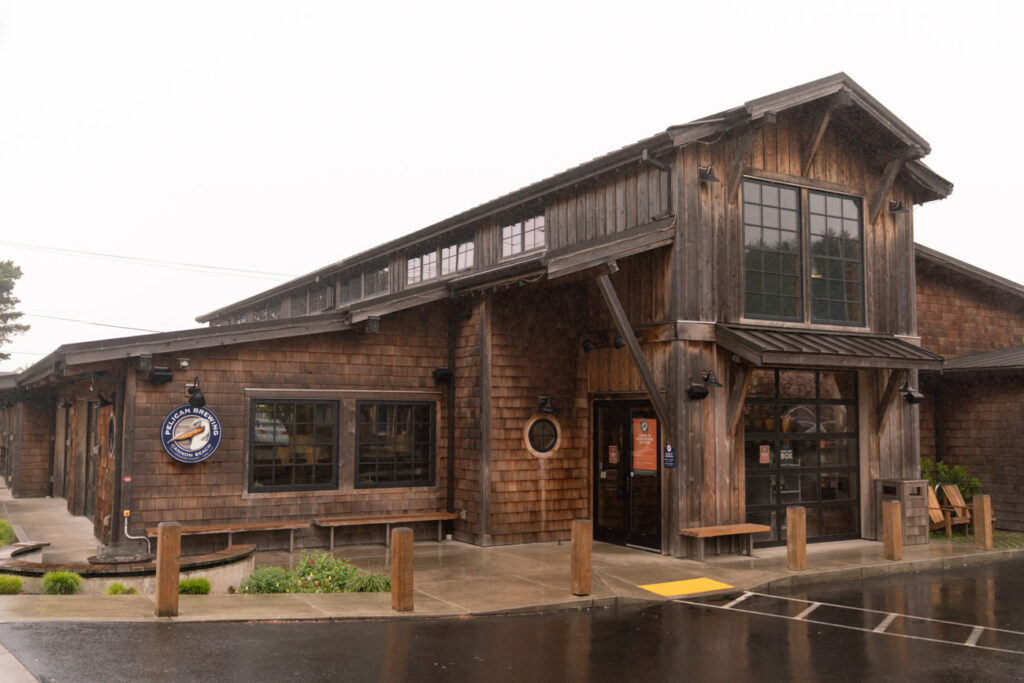 This might not be a popular opinion, but I think the Pelican Brewery Cannon Beach location is a hard skip.
The food here was expensive, it tasted like typical bar food, and there wasn't a view of the ocean. With that said if you have to go here, the burgers and the beer selection were pretty good.
If you're also planning on visiting Pacific City, I strongly recommend that you go to the Pacific City Pelican Brewery location instead of the Cannon Beach location. This is because the Pacific City location is right on the beach in front of the Pacific City Haystack Rock which makes it a better dining experience.
Tips for Your Visit
Check out a tide chart so you can make it to Cannon Beach at low tide. It's a can't miss!
Volunteers from Friend's of Haystack Rock will be at Haystack Rock during low tide in the morning and afternoon. They are a great resource if you have any questions about Haystack Rock and the wildlife in the area! Here is a link to their daily schedule.
If you're on a budget, you can go to Fresh Foods to buy groceries and local beer and wine instead of eating out.
If you're planning on making a bonfire on Cannon Beach, one of the easiest ways to do it is to buy your wood from Fresh Foods and park in the Tolovana Beach State Recreation Site parking lot.
If you're a photographer or filmmaker who is looking to capture content, use an app like PhotoPills so you can know the exact location of sunrise and sunset or moonrise and moonset. It's not a free app, but it's worth the $9.99 price.