Important Note: This article is focused on my experience with safety in Cartagena, Colombia. There are still certain areas in Colombia that the US Department of State has put a Level 3: Reconsider Travel and Level 4: Do Not Travel warning on. If you're traveling to less touristy areas of Colombia during your stay, please check your government website for their travel advice.
I understand why you're researching if Cartagena, Colombia is a safe place to visit because I went through the same thing before my trip too!
I wanted to go to a destination that was a little more outside the normal tourist route, but because of Colombia's violent history, I was very worried if it was a safe destination to visit or not.
One thing is for sure, Cartagena is one of the safest places I have visited. The people are extremely friendly, the food is insanely delicious, and at no point during my 7-day trip did I feel in danger. Plus, with a Numbeo.com Safety Index Rating of 54.79, it puts Cartagena's safety in the same range as large cities in the US.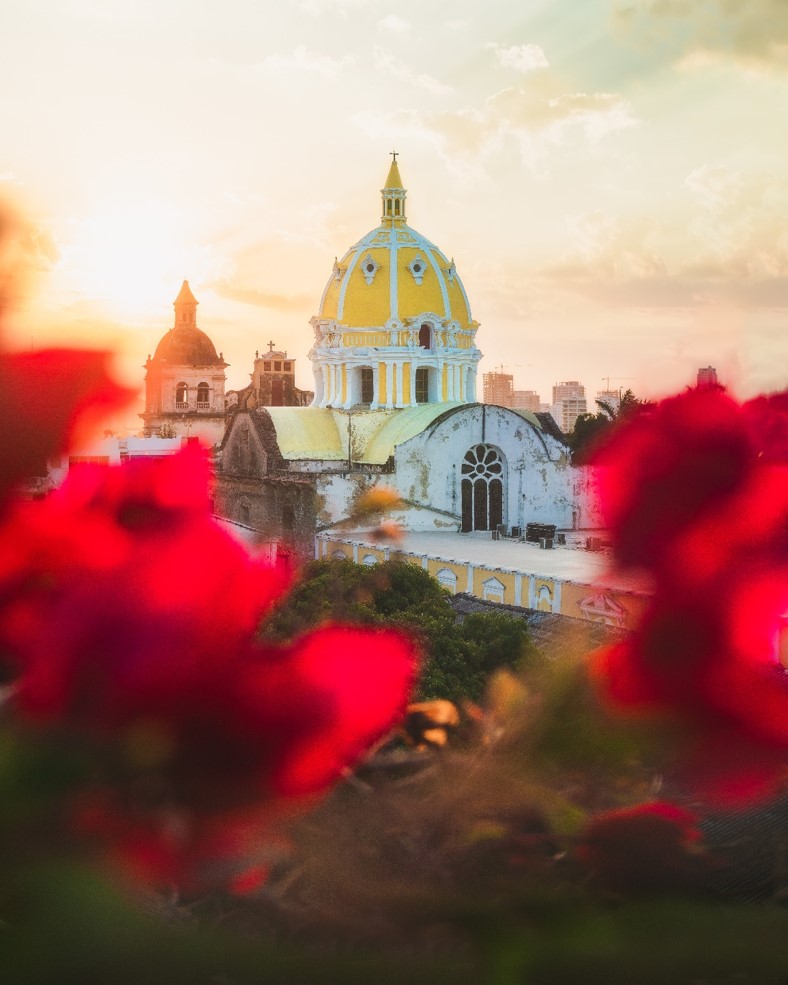 When I told my family I was planning to go they tried to convince me not to because they thought it would be dangerous.
It's funny now, but because of how worried my family was, I almost canceled our flight tickets. Then I realized that no place in the world is 100% safe and the only way I was going find out fact from fiction was to go myself.
In the end, I traveled to Cartagena, Colombia for 7 days with Tom and can tell you all about our awesome experience while traveling there!
If you haven't heard of Numbeo.com before, it's a consolidation of information collected from surveys of visitors to the website. The questions that people answer in the survey are very similar to scientific and government surveys and the website has been used as a source by many international newspapers and magazines (British Broadcasting Corporation, Time, New York Times, etc.)
Their safety index is an estimate of overall safety in a city or country and the scale is from 0 – 100.
With a score of 54.79, Cartagena is considered a moderately safe city to travel to and just falls short of being a city with a high safety rating.
You might look at that number and think "Hey, a score of 50 in school is a failing grade! How does that make Cartagena Safe?"
It's all relative, so to give you a better idea of what Cartagena's Safety Index Rating of 54.79 means, here is how it compares to other major cities in the world.
Numbeo City Safety Index
Los Angeles, California, United States 57.55
San Jose, California, United States 57.37
New York City, New York, United States 56.26
Milan, Italy 56.16
Cartagena 54.79
Istanbul, Turkey 51.98
Minneapolis, Minnesota, United States 50.85
Brussels, Belgium 50.75
London, United Kingdom 47.88
See, what did I tell you! Although a score in the 50s seems low at first, it isn't.
There are a bunch of cities in the world that also have a Safety Index Score in the 50s which you wouldn't hesitate to visit.
Here is a look at the different Numbeo Safety Index categories and where Cartagena fits in the overall picture.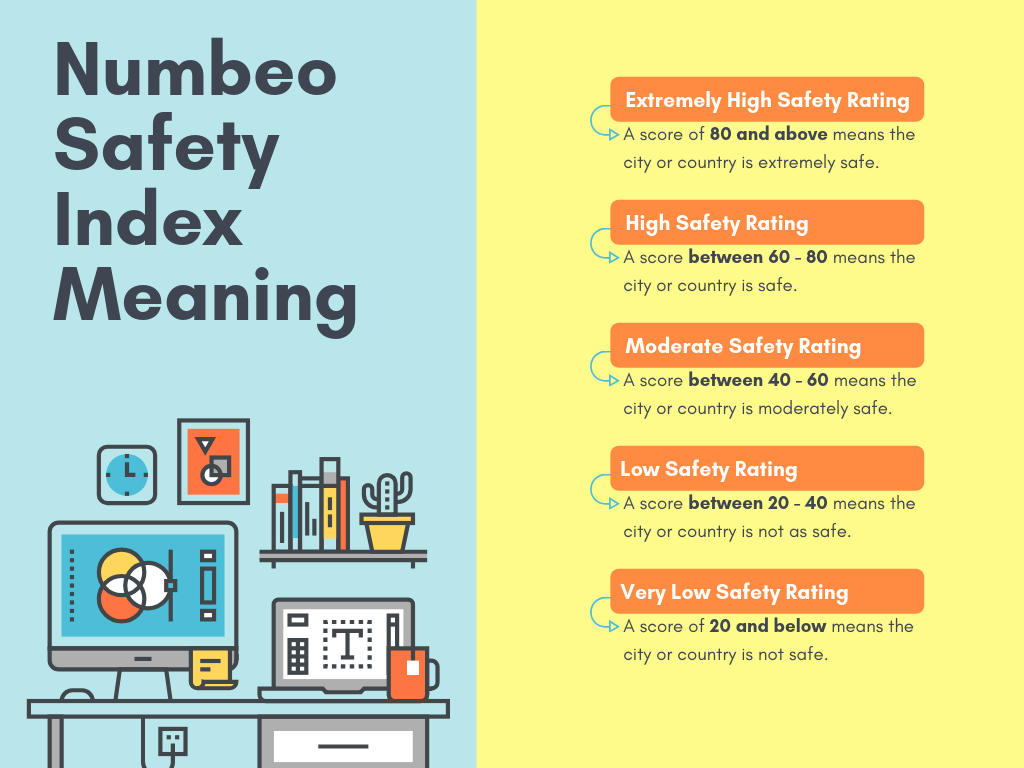 Now, let's get back to the 4 reasons why Cartagena is such a safe city to visit from my own experience which I learned over my 7-day trip there.
4 Reasons Why Cartagena is Such a Safe and Fun Place to Visit + A Brief Guide on the Must Visit Neighborhoods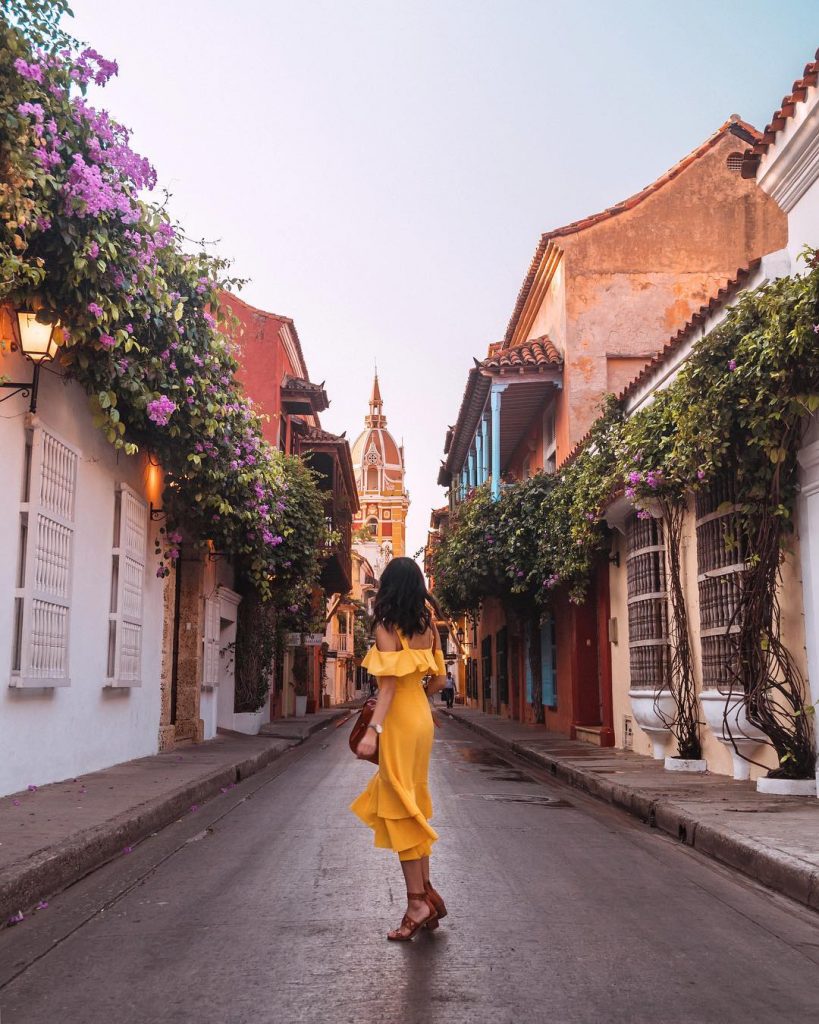 1.) Cartagena is One of the Most Popular Tourist Destinations in South America
If you think you're the only one thinking of going to Cartagena for vacation, you're wrong.
Cartagena, Colombia is by far one of the most popular tourist destinations in all of South America.
So, even though you think you might be going a little off the beaten path, you will be hanging out with a lot of other tourists while you're in Cartagena.
Even though it can get annoying hanging out with other tourists, think of it as a good measure for safety.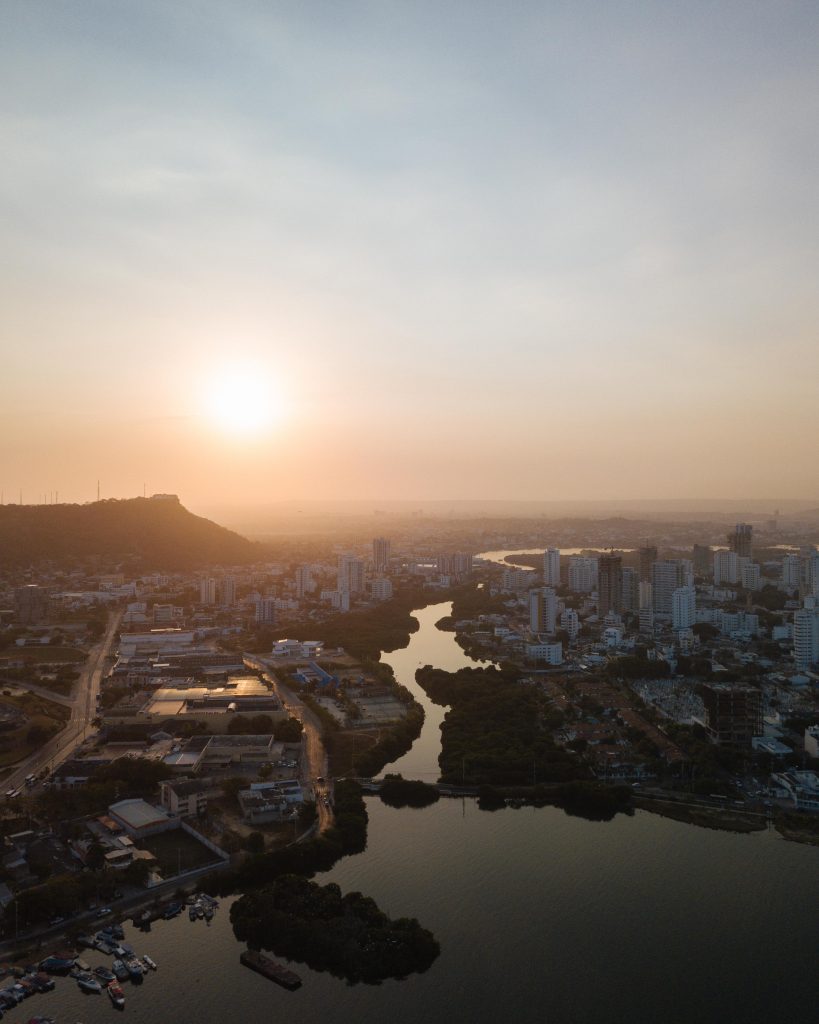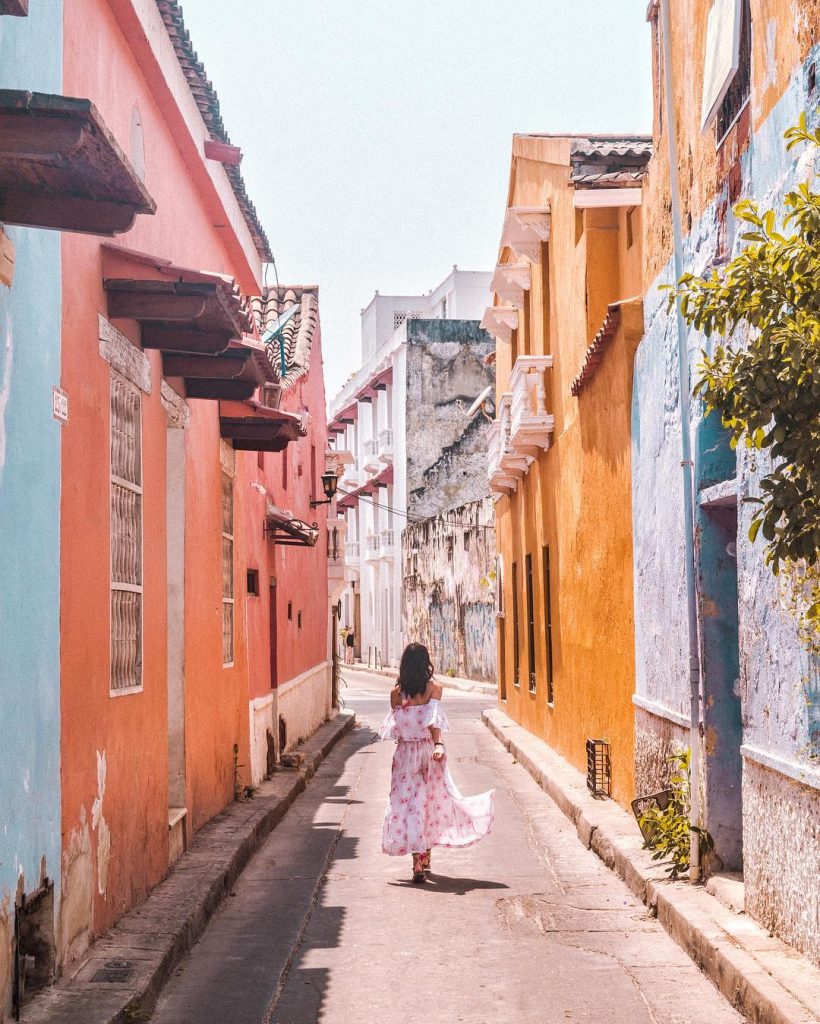 The report stated that there was an almost 58% increase in flight searches from Canada to Cartagena because of a low crime rate, a good economy, and more flights to choose from.
After spending 7 days in Cartagena, I can understand why it's so popular.
The food is unbelievably delicious and affordable, the culture is rich and vibrant, the people are friendly, and there is an old-world charm in the colorful flower-lined streets that is hard to find anywhere else.
2.) Rideshare is Widely Available in the City
If you're anything like me when you go somewhere new, one of the first things you will research is how to get around the city you're going to.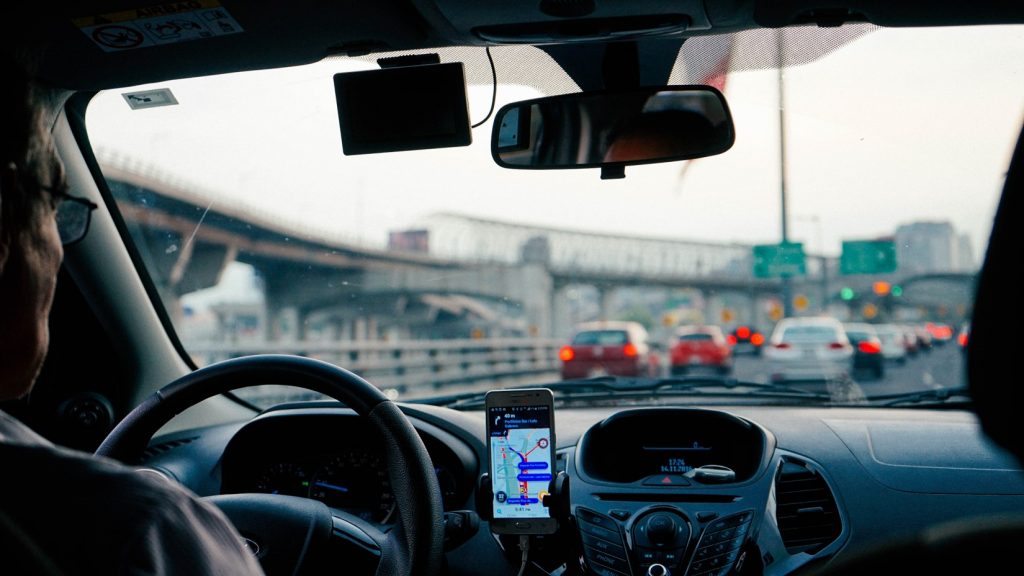 Luckily in Cartagena, Rideshare is widely available with Uber and Easy Tapssi, which is a taxi calling app, in the city. (here is the link to the Easy Tapssi App on the Google Play Store and Apple App Store in case you need it)
Yes, there is a public bus system in the city, but the easiest way to get around is through Uber or by calling a taxi through the Easy Tapssi App because of the short distances you're traveling in the city and the additional safety features in the Apps.
By using either Apps, you can see how much it costs before the ride, the route the driver is going to take, how long the ride will be, and the driver's information in case something happens or you forget something in the car.
It does save you from the headache of wondering if the driver is charging extra or taking the long way to your destination.
Like anywhere else that Uber or a taxi calling App is available, you can take them to pretty much any part of the city, regardless of the distance.
Because I already use Uber in the US, we decided to take an Uber from Rafael Nunez International airport to the Old Walled City of Cartagena where we were staying the first couple of nights.
In total, it was about a 20-minute drive and was less than what I typically pay for in the US.
If you don't have an international cell phone service and your phone is unlocked, one of the easiest things you can do is to pick up a local sim card on your trip to Cartagena.
This way, you'll be able to look up directions, research where to eat, stay connected to your friends and family, and call for Uber or a Taxi where ever you are in the city.
The best part is that getting a local sim card with data is extremely simple. I chose to go with Claro since it was located right across the street from our hotel in the Old Walled City, but there are other service providers you can choose from.
In total, I paid just over $12 for 2 GB data plan. The cool thing is that using Facebook, Whatsapp, or Twitter did not count towards your data consumption with this plan, so the 2 GBs easily lasted me the entire week I was there.
Here are some of the other cheaper data plans available from Claro if you don't think you need 2 GBs of data.
3.) There are Plenty of Safe and Friendly Neighborhoods to Explore
Honestly, during our 7-day stay in Cartagena, we felt just as safe here as when we visited some of the most popular cities in the US like New York City, Los Angeles, and Chicago.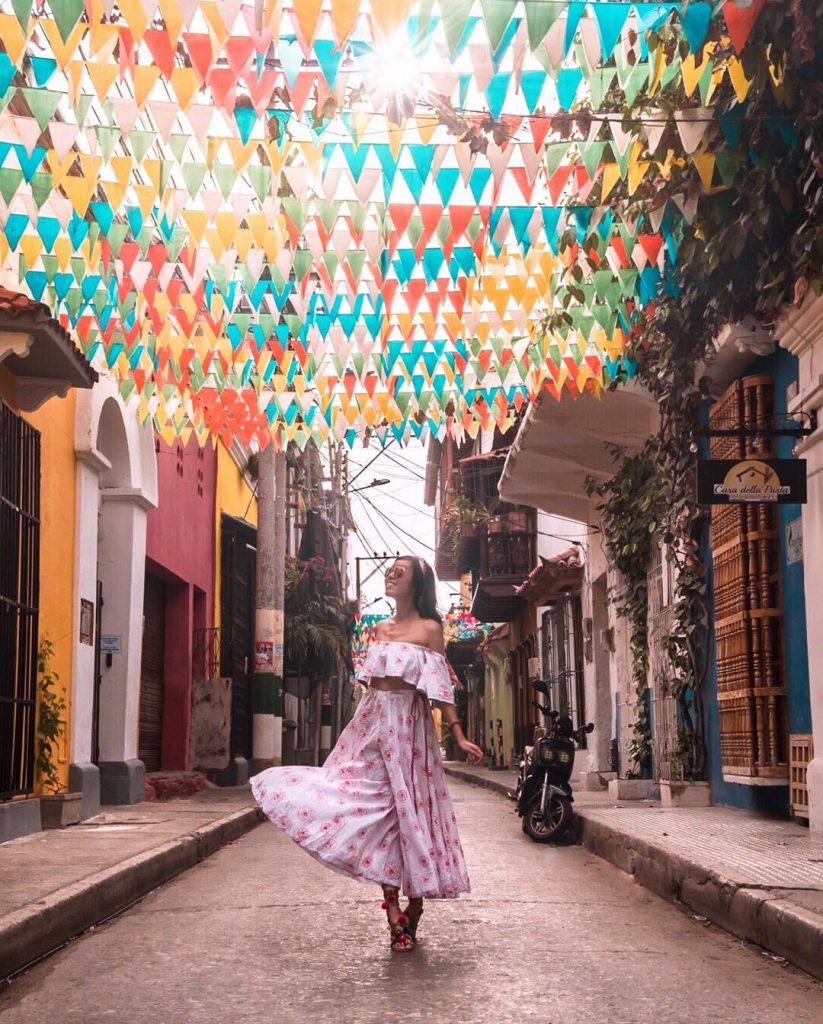 Our favorite part of our stay was exploring the different neighborhoods in Cartagena because each one had its own unique vibe and charm. Here's a quick look at 4 different neighborhoods we explored while we were there.
Again, we felt 100% safe exploring these neighborhoods during the day time and at night, but as always be on the look out for pickpockets, walk around with a friend (if you can), and use common sense!
Old Walled City
Old Walled City is definitely one of the main attractions of Cartagena. The inner-walled city features iconic landmarks like the Clock Tower, San Pedro Claver Church, and the chill neighborhood of San Diego.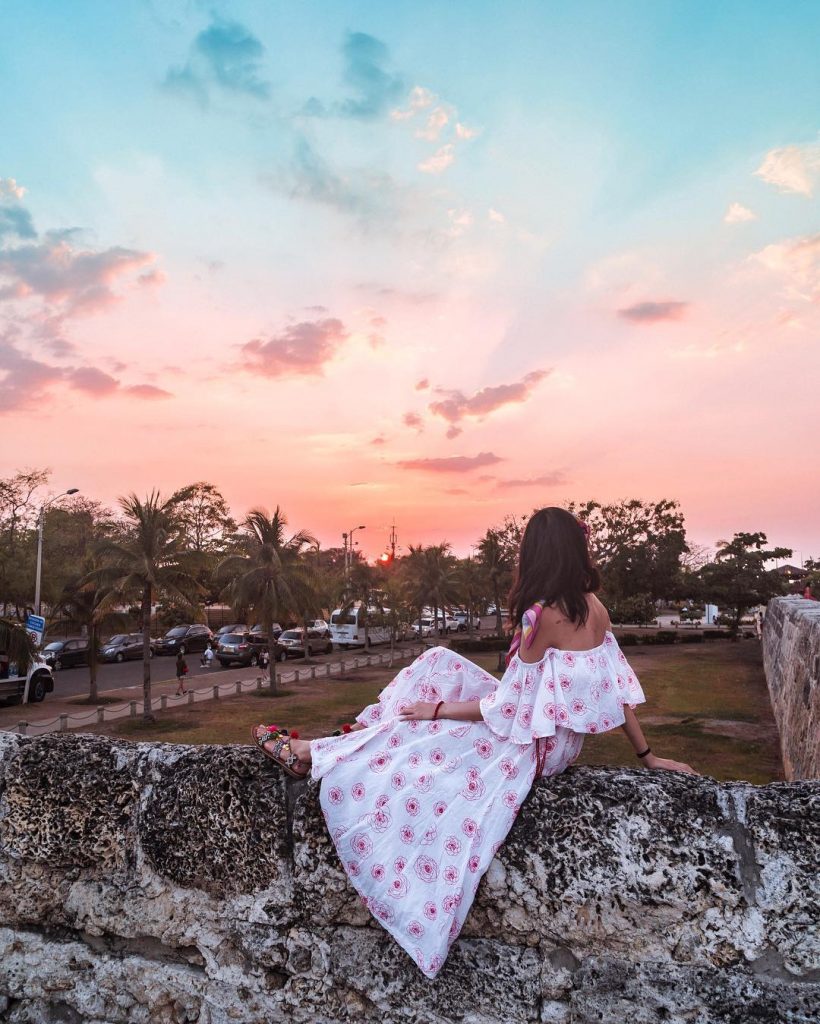 Inside the walled city, you'll get to walk through spectacular colonial architecture that is teeming with churches, palaces, and plazas. It really has everything a culture enthusiast would want to see!
The easiest way to explore this area is by wandering the streets on foot.
It was one of my favorite neighborhoods and I lost count of how many hours we spent walking through the many colorful alleyways looking at the flower-lined houses and checking out all the cool boutique shops and little coffee shops.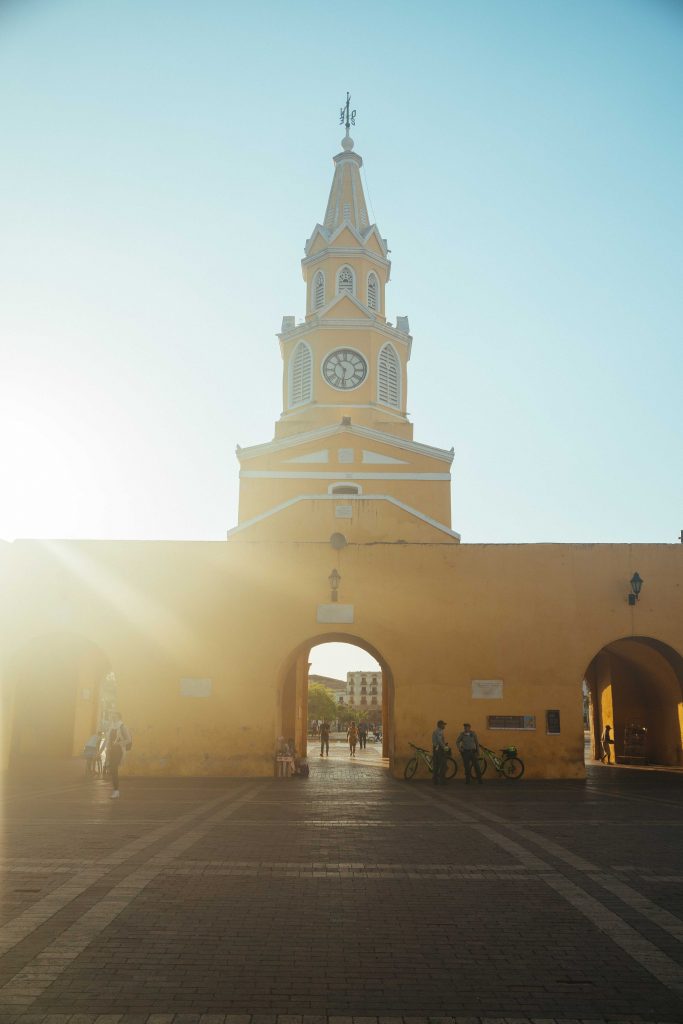 Pro Tip: The Old Wall City gets extremely busy with tourists during the day, so if you want to take photos without as many people in them, try to start exploring as early as you can.
Bocagrande
Bocagrande is Cartagena's main beach neighborhood, so if you're looking to get some beach time during your trip, this is one of the places you can go to.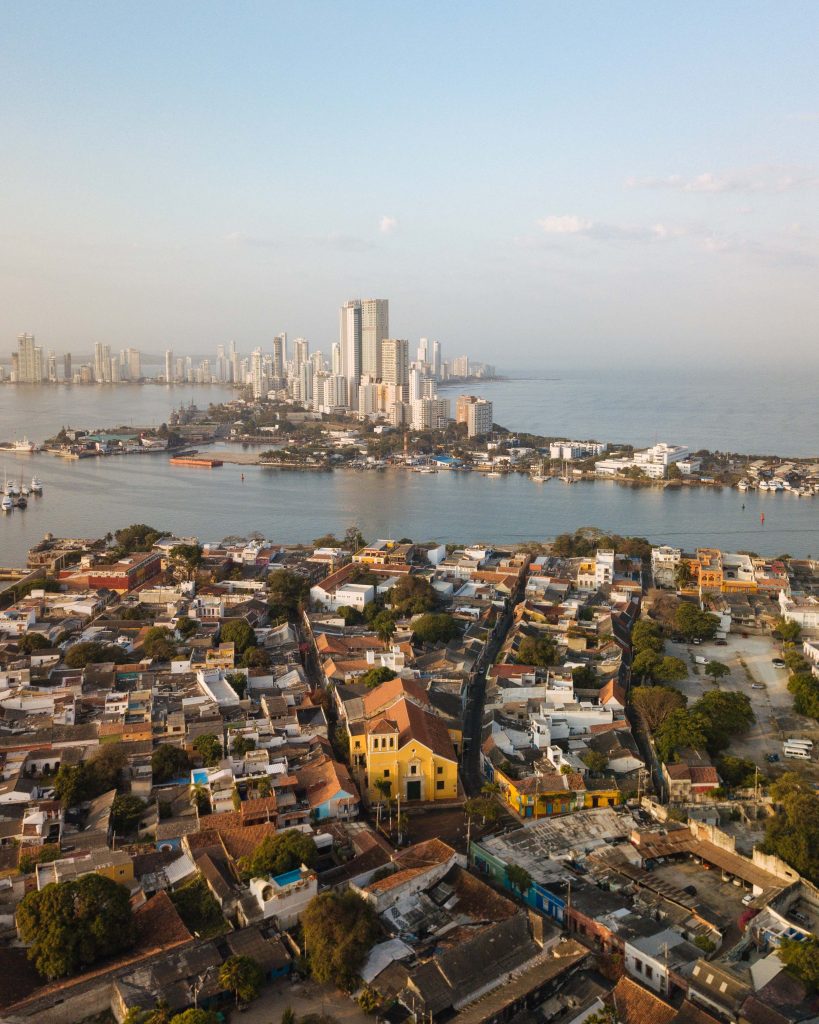 The neighborhood is very comparable to Miami Beach and you'll find high-end hotels, chic restaurants, and long stretches of sandy beaches to hang out at.
With that said, I think there are better beaches to choose from just a little further away from the main town, so if you have extra time I'd recommend checking out these beaches instead of the Bocagrande area.
After researching, we ended up going to the world-famous Playa Blanca and I have to say it was worth 100% of the extra effort we spent to get there.
By far, Playa Blanca had the softest white sand and warmest waters I have ever experienced in the world!
Getsamani
Getsamani is one of the hippest neighborhoods in the already hip city of Cartagena.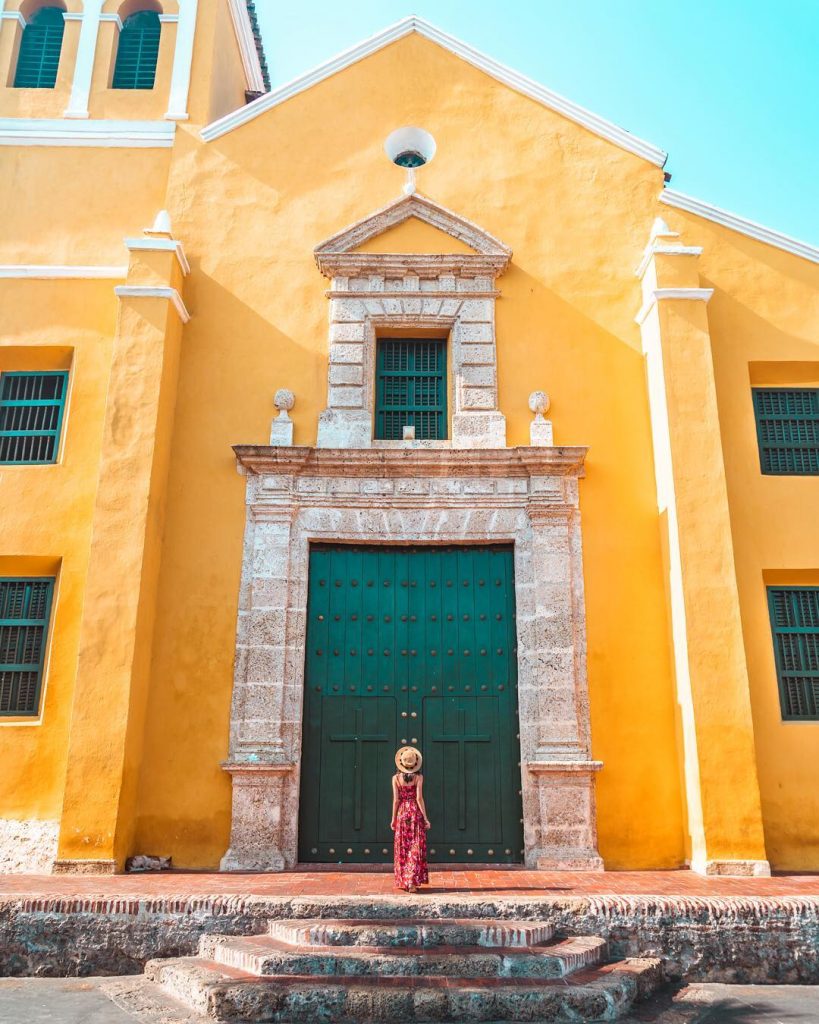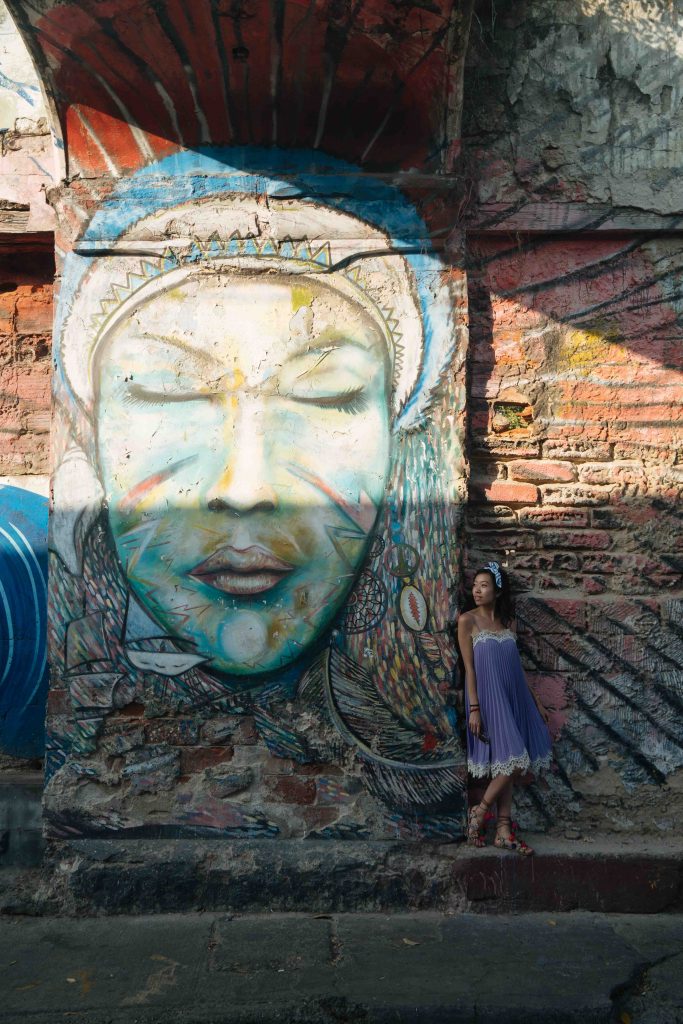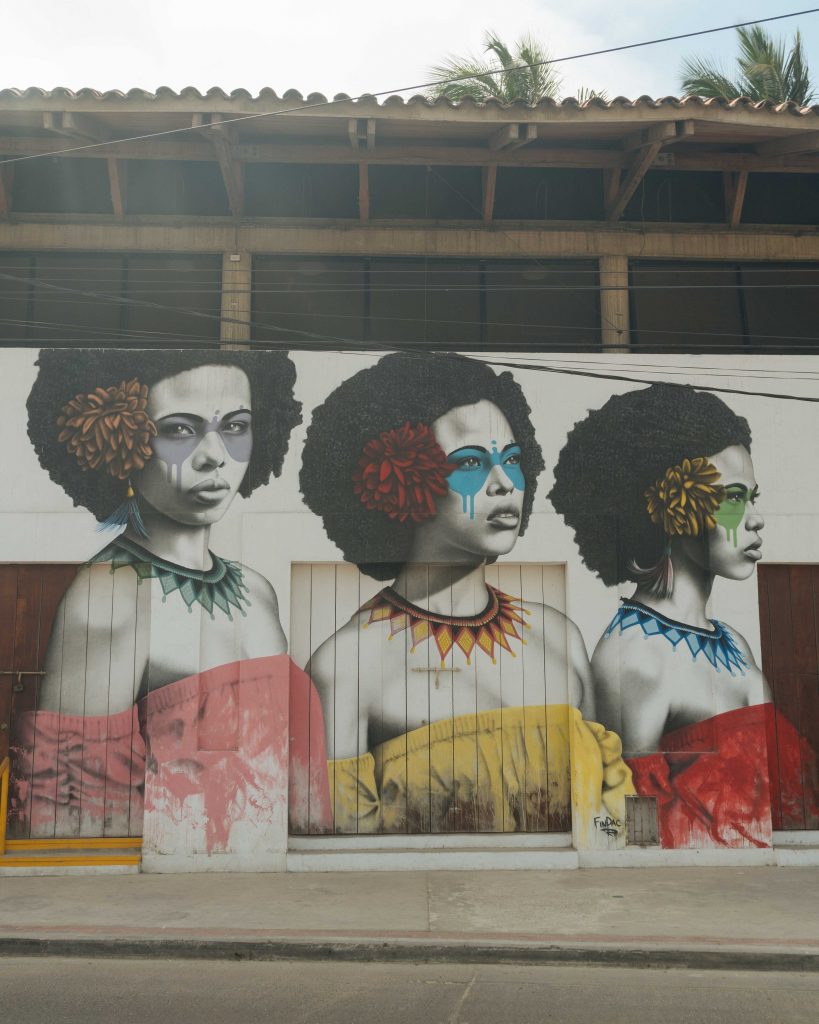 We spent a couple of nights in this neighborhood and loved our stay!
There are a huge amount of delicious affordable restaurants to eat at, the night time atmosphere was fun to experience, and we even took part in a neighborhood Zumba class in front of the Church of Holy Trinity. It's the yellow church which you can't miss!
Pro Tip: If you can, I highly suggest spending a night or two in this neighborhood! The vibe is completely different than what you find in the Old Walled City and will give you that much more of a diverse experience.
San Diego
San Diego is a chill little neighborhood inside the Old Walled City that is close to the local Bellas Artes Art College.
The day we visited the neighborhood, we stumbled on the college by accident and ended up walking through its beautiful campus to take some photos.
Some students were even exhibiting what looked like science experiments so we also checked some of those out before exploring the rest of the neighborhood to find somewhere to eat.
There are a huge amount of restaurants to try out in this neighborhood and if you're a big fan of the late Anthony Bourdain, like I am, its also where you'll find La Cevicheria, which he visited in 2008 for his show No Reservations.
4.) The Media is Only One-Sided
One important thing to remember is that each of us has personal biases that have been built over time and are strongly influenced by our environment.
The media we consume every day plays a big part in this and has a huge influence on what we think of a particular destination.
If you ever turn on your TV to watch the news, then you know they tend to amplify negative disaster type of events more than positive ones because they understand that most people have a natural negativity bias, and will pay more attention to negative news.
Plus, most people tend to remember negative news better than positive news.
What I'm trying to say here is to do your research and rely less on your family and friend's opinions.
Since the country of Colombia has had such a violent past, a good amount of media coverage in western countries about countries like Colombia is negative.
So, most people in your family or friend group that you talk to about traveling to Cartagena will probably have a negative perception of Cartagena unless they have visited before.
I didn't really think too much about this until I started telling my friends and family that I was going to Cartagena, Colombia for vacation.
Even though all the research I had done confirmed that it was a safe place to visit, all my family and friends were worried about my safety because of their negative perception of the country.
Of course, I trusted their opinion and didn't want them worrying about my safety while I was gone, so I came extremely close to canceling our trip. (I actually called the airline to double-check their cancellation policy!)
Ultimately, in the end, I went on the trip and realized once I got there that all the extra worrying I had done was for nothing.
Cartagena was completely safe, just like my research had confirmed.
Conclusion
Cartagena was one of the most memorable trips I have been on.
It was memorable not just because of the colorful vibrant streets, awesome food, and incredible history but also because I went with my gut and went through with the trip even though most of my family and friends were telling me not to go!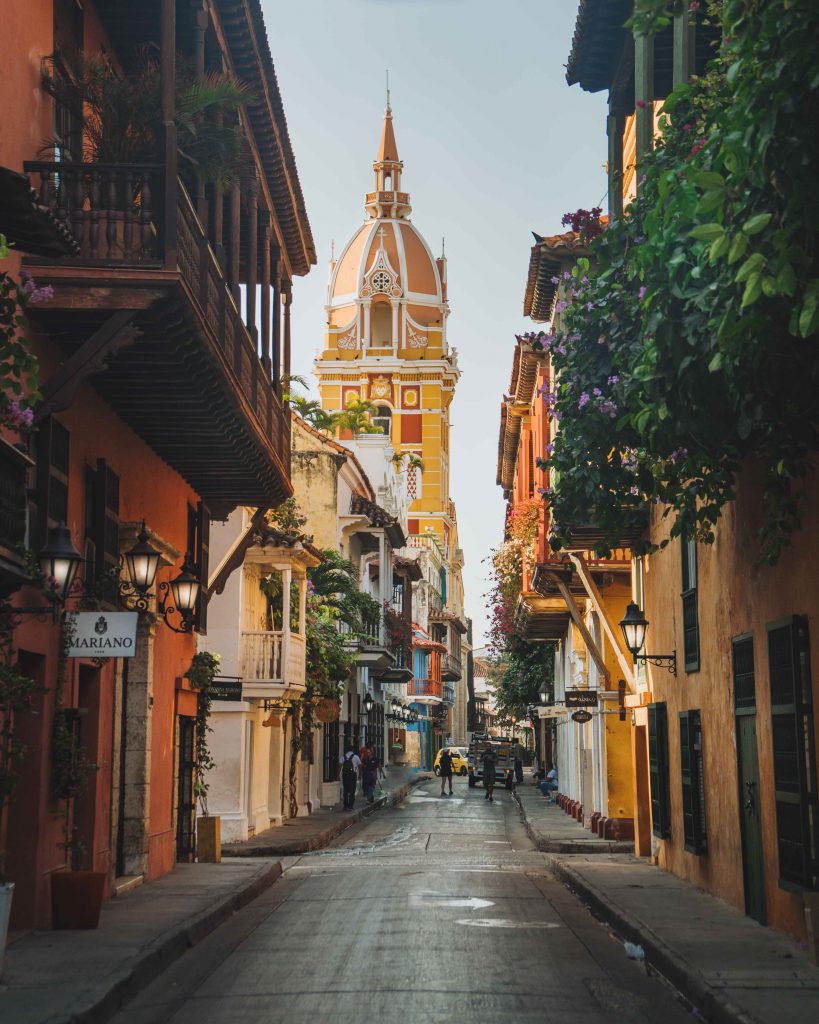 Throughout my 7 days here, I never once felt unsafe walking through the city streets during the day or night and I can confidently say that Cartagena is an extremely safe city to visit!
With that said, I did only stick to the tourist areas, though, so if you want to travel to less touristy parts of Cartagena, make sure to check with your hotel to get there opinion.
Like any major tourist destination in the world, there is a risk of pickpockets and minor crimes, but if you use common sense and don't bring attention to yourself, you'll be more than fine.
Have you been to Cartagena before or are thinking about going?