So, I see you're thinking of visiting Taipei and wondering if the capital of Taiwan is safe to travel to. Luckily for you, most of my family lives there and I try to visit once a year so I can tell you all about how safe it is in Taipei.
Hands down, Taipei is one of the safest cities in Asia and in all of the world with one of the lowest crime index rates, a very efficient and safe public transit system, and some of the friendliest people you will ever meet.

As I said, I have family here and thanks to them, I have gotten the chance to visit the city my entire life. I have witnessed Taipei evolve into the safe, metropolitan city it is right now and has seen how much other travelers have enjoyed exploring the city.
Also, what surprises many first time visitors the most is how safe it is to travel in Taipei at night time, especially since its one of the major metropolitan cities in Asia.
I can't even count how many times I have wandered the city streets at night looking for a late-night snack without worry. This is not how I feel in many other major cities in the world.
Here are 4 reasons why Taipei is one of the safest cities in the world!


1.) Statistically, Taipei is one of the Safest Cities in the World
Taipei is ranked as the 4th safest city in the world according to the crime index from Numbeo.com (2019), which means it's pretty much as safe as it gets.
If you haven't heard of Numbeo before, it's a consolidation of information collected from surveys of visitors to the website. The questions that people answer in the survey are very similar to scientific and government surveys.
Their safety index is an estimate of overall safety in a city or country and the scale is from 0 – 100.
Any score over 80 is considered to be an extremely safe city or country and Taipei came in with a score of 85.03!
In addition to being ranked as the third safest city in the world by Numbeo.com, Taipei is also ranked as the 12th safest city in the world by thedailymeal.com in its comparison of the 50 safest cities in the world.
In case you're still not convinced, let's dig a little deeper into the Numbeo safety index of Taipei and compare it to other popular cities in the world. Here are what the Numbeo Safety Index scores mean.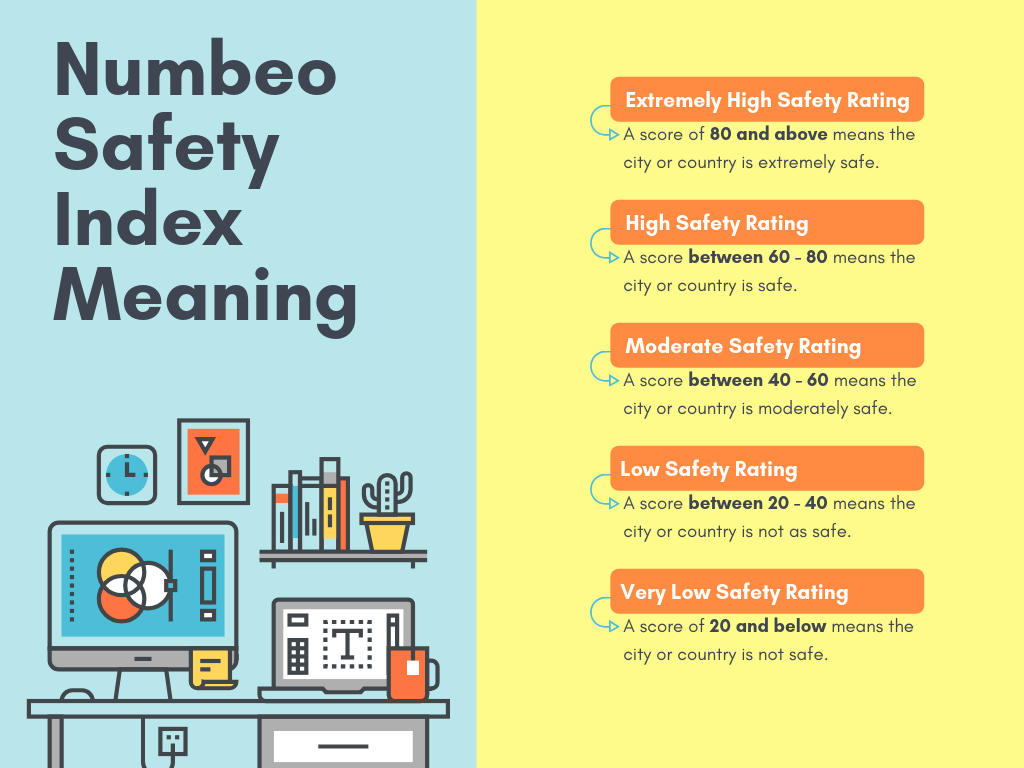 Numbeo City Safety Index
Taipei 85.04
Quebec City, Canada 85.22
Munich, Germany 83.55
Dubai, United Arab Emirates 83.34
Hong Kong, Hong Kong 81.90
Tokyo 80.61
Bangkok, Thailand 58.31
Mumbai, India 58.18
Los Angeles, California, United States 57.55
New York City, New York, United States 56.26
Istanbul, Turkey 51.98
Dallas, Texas, United States 50.86
Rome, Italy 47.83
London, United Kingdom 47.88
As you can see from the statistics, the safety index in Taiwan is unbelievably high. In fact, you'll see it higher than Tokyo, which many people already know to be one of the safest cities in the world.
It's cool to see Taipei so high up on the safety index now because I can still remember walking through some shadier neighborhoods when I was younger.
That was over 20 years ago, though, and since then Taipei has matured into one of the most tourist-friendly cities I have ever visited.
From the time you take your first step in the city, you'll feel a unique energetic vibe that I can only best describe as a mix between laid back chill, old-world charm, and the hustle and bustle that you would find in any large metropolitan city.
The best part is that Taipei is only a short bus ride away from the mountains (think Yangmingshan National Park) and the ocean side (think Yilan).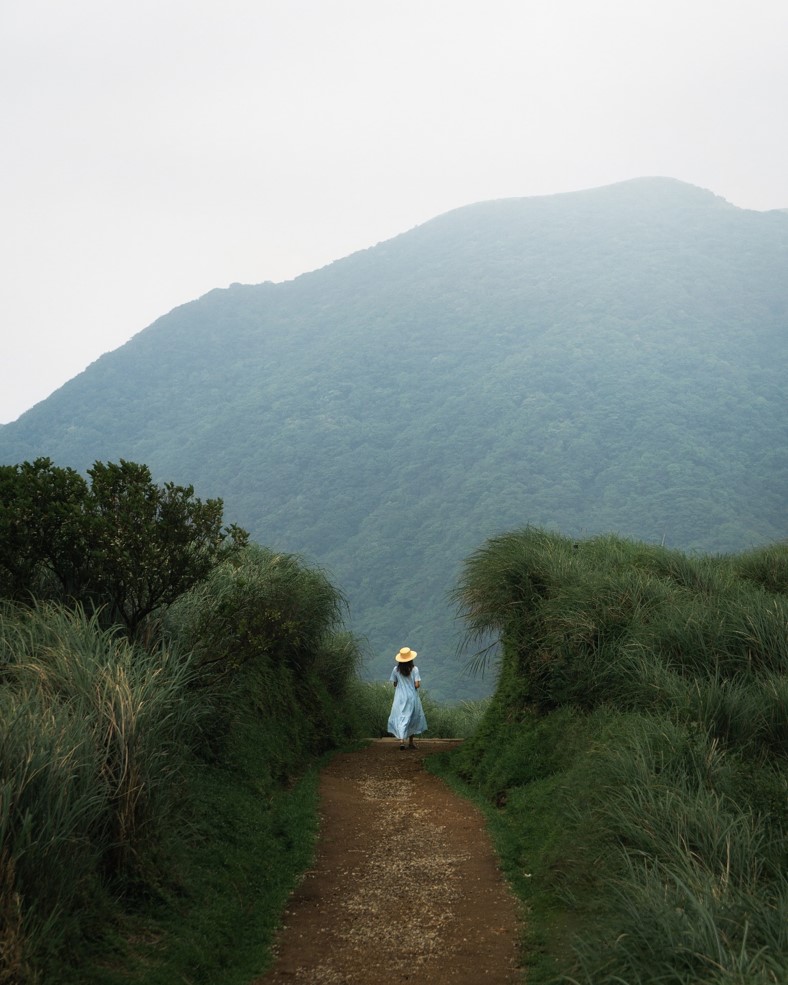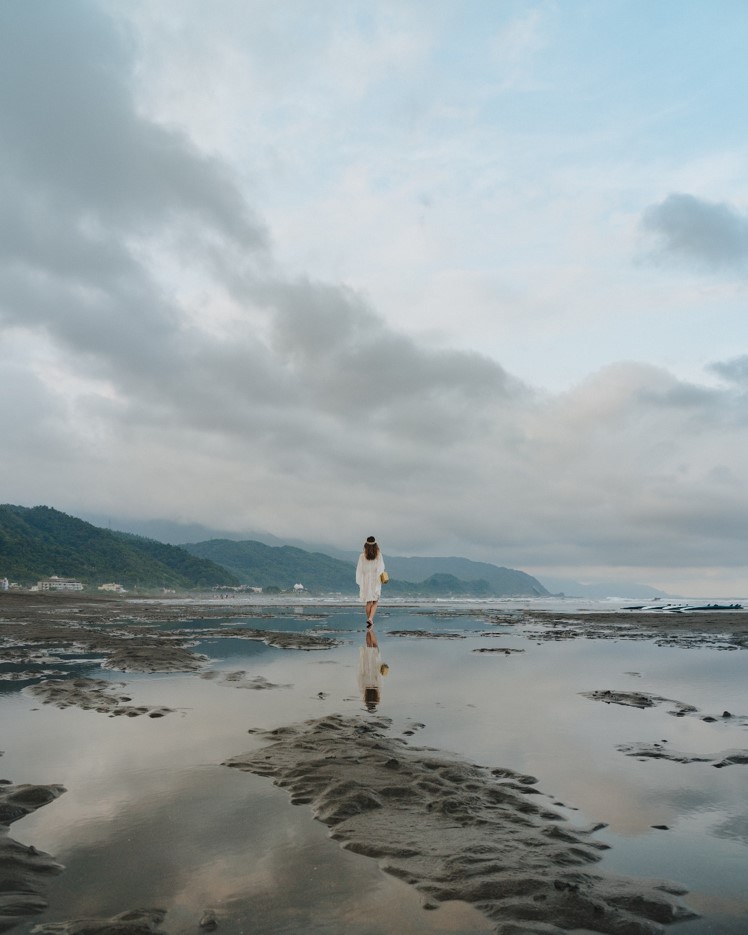 Plus, it's the definition of a foodie paradise with famous dishes like Beef Noodle Soup, Braised Pork Rice, and Mango Shaved Ice, so you'll have an unlimited amount of things to do and food to try.
So, whether you're traveling alone or with your friends, you'll certainly have the time of your life.
Here is a summary of what to expect, safety-wise, once you are in Taipei.
Overall Safety: Very High Safety – the overall risks of traveling in Taipei are fairly low. The only minor concern is petty street crimes that you would run into in any city. With that said, I have yet to have this happen to me or my friends and family. If you follow common sense, this will be no problem.
Transportation Safety: Very High Safety – public transportation in Taipei on its metro system, public buses, or even the city taxis is cheap, convenient, and extremely efficient. Of course, like any big city, there is a risk of pickpockets, but even those instances are super rare. Honestly, the worst thing that has happened to me is a rare taxi driver taking a longer than necessary route to earning a few extra dollars. Even then, it only ended up being $1 or so.
Mugging Risk: Very Low – I almost want to put nonexistent here, but there is still a small chance this could happen. Again, it never happened to me and I have never heard of it happening to friends or family.
Terrorism Risk: Very Low – although you can't 100% rule out the risk of a terrorism-related incident, there is a very very low chance of this happening in Taipei.


2.) Taipei is Just as Safe at Night!
If you're a night owl and want to experience the nightlife Taipei has to offer, I have good news for you! Taipei is one of those cities that are just as safe at night time as it is during the day.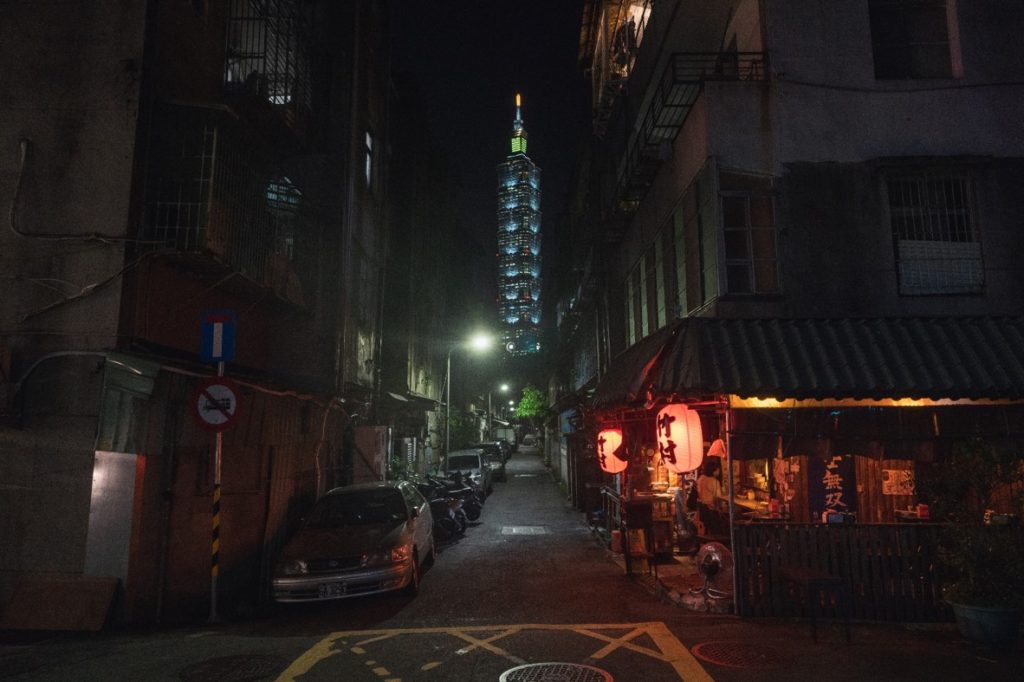 So this means you can hit up all the bars, night clubs, and night markets the city has to offer and can conveniently take public transportation to these places without worrying about which transportation option is safer than the other.
Plus, there isn't an area of the city that you should try to avoid at night like some other large cities in the world.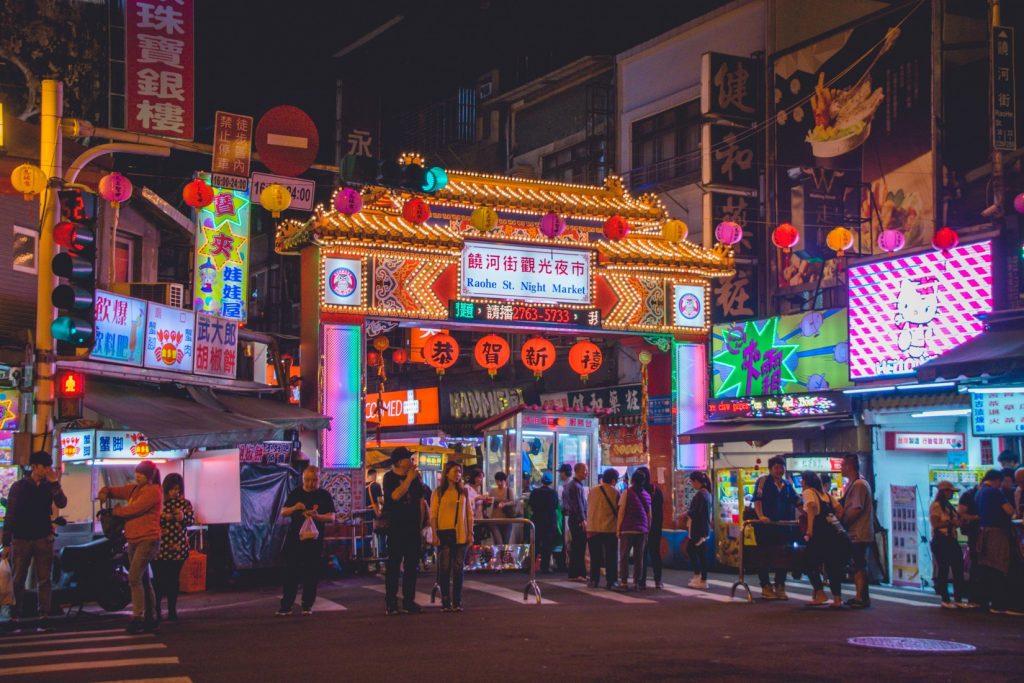 Also, if you end up traveling via the Metro System at night and don't feel 100% comfortable while you're waiting for your subway, there are designated Safe Waiting Zones in the central area of all platforms, which are monitored 100% of the time.


3.) Taipei is the Perfect Destination for Solo Travelers
One of the best ways to travel, to meet new people, and to fully experience a new culture is to travel solo.
The best thing about Taipei, and actually, the entire island of Taiwan is that it is one of the best places to travel solo in the world.
Why it's such a perfect solo travel destination could be an entire article in itself, but it's really for many of the same reasons that we have talked about already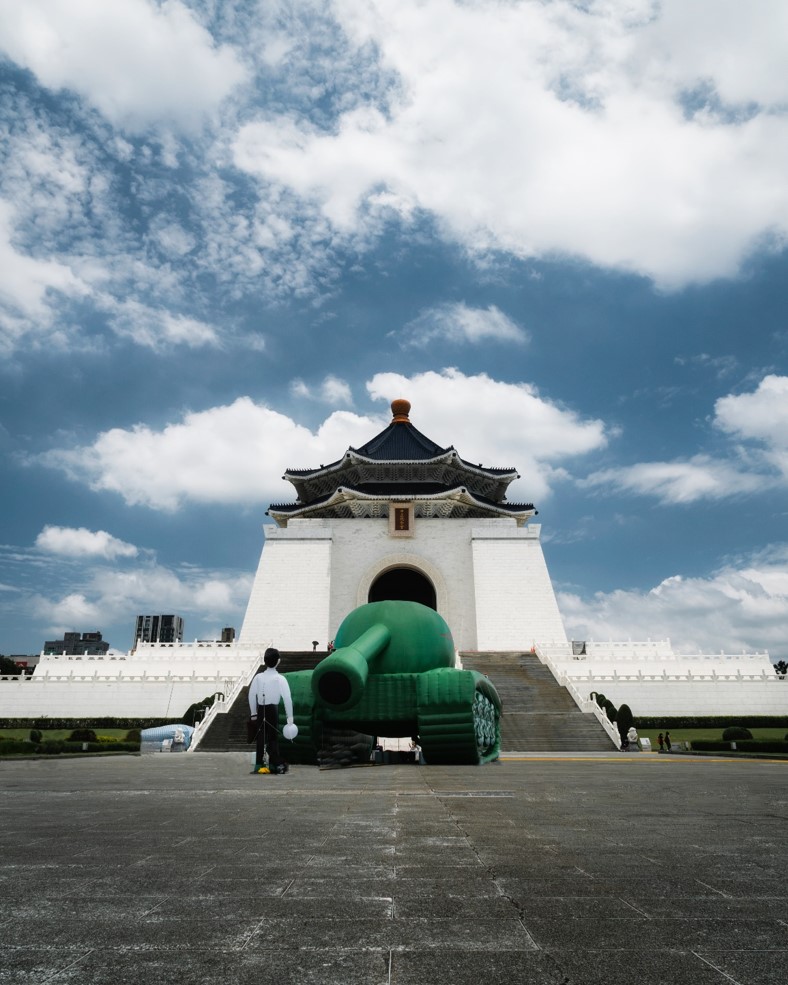 The entire island, including the city of Taipei, is incredibly safe, transportation is cheap and convenient, and most importantly the people are extremely friendly to foreigners who are visiting the country.
I know I've been going on and on about how safe it is in Taipei, but don't just take my word for it. Here are a few other travelers from around the world who also had a great time on their trip to Taiwan!


Other Traveler's Experiences in Taipei
Arzo from arzotravels.com. Arzo has been writing about her travels since 2015 and has had the chance to visit an incredible amount of countries in the world. On her visit to Taipei, she called it an incredibly safe city and feels it is one of the most underrated places in all of Asia!
Queenie from mstravelsolo.com. Queenie has been a self-proclaimed solo traveler for over 15 years and she has been to a crazy 45+ countries during her time traveling. In her Solo Traveler's Guide to Taipei, she raved about how friendly the people were, how its one of the safest places for a solo female traveler, and how delicious and inexpensive the food was!
Marie from bigtravelnut.com. Marie has been traveling the world solo as much as she can since 1992. In total, she has visited 65 countries and every continent! After her solo trip to Taiwan, she said the best reason to visit Taiwan is because of how safe it is, the friendliness of the people, and how easy it is to get around.


4.) Taipei has Some of the Friendliest People in the World – A Personal Story
I'm just going to have to repeat myself to say that Taipei and the rest of Taiwan have some of the most friendly people you'll meet while traveling.
I'm not a historian, but from what I can understand from my visits to Taiwan, is that the niceness of the people can be linked to the many years Taiwan was under Japanese colonial view.
Whatever it is, one thing is for sure, when you're traveling through Taipei and need some help, most people will be more than happy to do so.
Now, this personal story of the friendliness of the people didn't happen in Taipei, but I think it will give you an idea of just how willing people are to help.
A few years ago, I went hiking with a few friends on the Palace of the Emperor Trail near Shiding in New Taipei City, which was about 1 hour away by bus.
Long story short, we had an awesome time on the hike balancing past ledges, climbing up crazy steep inclines, and just hanging out.
On the way back down, we made a wrong turn somewhere and ended up on a mountain road we didn't recognize and decided to walk down the hill because we knew the city was at the bottom of the mountain.
It was getting close to sunset and we could see the last rays of light getting fainter and fainter.
About 15 minutes into the walk down, we noticed a car driving by. The guy driving the car looked and waved at us and we waved back but didn't think twice about it.
Another 20 minutes pass and the same guy drove up to us, but this time in his truck and he asked to bring us all down the mountain!
It turns out he was an off duty police officer who was worried about us because the sun was setting soon and we were still at least 3 miles from the small town we started the hike from.
The car he was driving when he saw us for the first time was too small to fit all of us, so he quickly drove home, switched to his truck, and drove back down hoping to find us!
Again, I know this example took place outside of Taipei, but trust me, most people in Taipei are just as friendly as this guy who offered to give us a ride.


Conclusion
Like I was saying at the beginning, I understand why you are researching about safety in Taipei.
When you are traveling someplace new for the first time, safety is something you don't want to think twice about.
Like anyone else, you just want to relax, and enjoy your vacation as much as you can.
After reading through this article I hope by now you can see that Taipei and the rest of Taiwan are one of the safest places you can travel to in the world.
It's safe not only from a statistical perspective but also from the positive first-hand experiences of other travelers who have visited Taiwan.
I know even with this article, you might still have second thoughts about safety in Taipei.
If this is the case, please feel free to ask me any questions on any topic about safety in Taipei or Taiwan in general and I'd be happy to try to answer them!